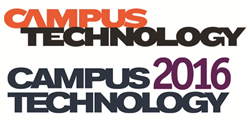 We are thrilled to have a diverse group of Innovators this year — projects ranging from crowdsourcing and gamification to multimedia and mobile apps.
Vienna, VA (PRWEB) June 01, 2016
Campus Technology has officially announced the recipients of its 2016 Innovators Awards. After a nomination process that brought in submissions from all over the world, 11 honorees were selected in six categories.
The Campus Technology Innovators Awards annually recognize the exemplary colleges and universities, along with their visionary project leadership and technology vendor partners that have used technology in innovative ways to solve campus challenges.
"We are thrilled to have a diverse group of Innovators this year — projects ranging from crowdsourcing and gamification to multimedia and mobile apps. It's exciting to see these institutions using technology to impact teaching, learning and administration in a big way," said Rhea Kelly, executive editor, Campus Technology.
The 2016 Campus Technology Innovators:
Teaching and Learning
Virginia Commonwealth University
Project: The Great VCU Bike Race Book
Project Lead: Gardner Campbell, Special Assistant to the Provost and Associate Professor of English
Vendors/technologies:

Adobe
Apple
BePress
Canon
Feedly
FeedWordPress
Nikon
Reclaim Hosting
Sennheiser
Slack
Sony
WordPress
WP Engine
London School of Economics and Political Science
Project: Constitution UK
Project lead: Peter Bryant, Head of Learning Technology and Innovation
Vendors/technologies:

Crowdicity
Facebook
Storify
Twitter
University of South Florida
Project: My Reviewers
Project lead: Joe Moxley, Professor of English
Vendors/technologies: Developed in-house
University of Michigan
Project: GradeCraft
Project lead: Barry Fishman, Arthur F. Thurnau Professor of Learning Technologies, School of Information and School of Education
Vendors/technologies:

Alfa Jango
Amazon Web Services
Developed in-house
Student Systems and Services
University of San Diego
Project: Insight Mobile App
Project lead: Avi Badwal, Senior Director, Enterprise Technologies, Information Technology Services
Vendors/technologies:

Administration
University of Central Florida
Project: Universal Design Online Content Inspection Tool
Project lead: Jacob Bates, Techrangers Lead, Center for Distributed Learning
Vendor/technology: Instructure
University of Maryland University College
Project: Office of Analytics / HelioCampus
Project lead: Darren Catalano, CEO of HelioCampus and former Vice President of Analytics at University of Maryland University College
Vendors/technologies:

Amazon Web Services
HelioCampus
Tableau
IT Infrastructure and Systems
University at Buffalo, State University of New York
Project: FLEXspace
Project lead: Lisa Stephens, Senior Strategist, SUNY Academic Innovation
Vendors/technologies:

Clemson University
Project: Watt Family Innovation Center
Project lead: Charles Watt, Founding Partner
Vendors/technologies:

Biamp Systems
Brocade
Christie Digital
Cisco
Crestron
Da-Lite
Dell
Digital Projection
Echo360
Extreme Networks
Harman
Jupiter Systems
Mersive
Planar
Visix
XPAND
Education Futurists
Marshall University
Project: Clio, A Mobile GPS-Enabled History Application
Project lead: David Trowbridge, Associate Professor of History
Vendors/technologies: Strictly Business
University of Oklahoma
Project: OU Libraries NavApp
Project lead: Matt Cook, Emerging Technologies Librarian
Vendors/technologies:

This year's honorees will be recognized at an awards ceremony at the 2016 Campus Technology Conference held at the Hynes Convention Center in Boston, Aug 1-4. The winners will also receive in-depth coverage on the Campus Technology website and will be featured in the July/August print edition of Campus Technology.
"We are excited to feature the Innovators Awards alongside a keynote address on the connections between innovation and potentially transformative change from internationally recognized expert, Stephen Downes. The awards represent excellence in experimentation, design, collaboration, and implementation, and the projects they recognize expand the possibilities for individual campuses and the field of higher education technology," said Dr. John Hess, program chair, Campus Technology Conference- "We are certain that the Campus Technology 2016 audience will learn from and be inspired by the originality of the winning projects. Congratulations to all of the recipients on their achievements."
For more information on the awards, please visit the Campus Technology Innovators website: http://www.campustechnology.com/innovators.
About Campus Technology
Campus Technology is one of higher education's top information sources —delivering valuable information via a digital magazine, website, newsletters, webcasts and online tools. It's the go-to resource for campus professionals, providing in-depth coverage on the technologies and implementations influencing colleges and universities across the nation. We provide valuable how-to content, best practices, industry trends, expert advice and insightful articles to help administrators, campus executives, technologists and educators plan, develop and successfully launch effective IT initiatives. http://www.campustechnology.com
About 1105 Public Sector Media Group
1105 Public Sector Media Group, a division of 1105 Media, Inc., provides information, insight and analysis to the Government IT and Education IT (FED/SLED) sectors. Our content platforms include print, digital, online, events and a broad spectrum of marketing services. http://www.1105publicsector.com
About the Campus Technology Conference
The Campus Technology Conference, produced by LRP Conferences, brings together thought leaders from the fields of higher education and technology to explore innovative solutions and to develop effective strategies for campus administration, infrastructure, teaching and learning, and more. This year's conference will take place at the Hynes Convention Center in Boston, Aug. 1–4. For additional information, please visit http://www.campustechnologyconferences.com.
###