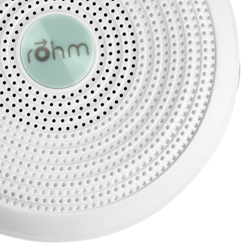 Life is NOISY... but you don't have to live with it.
Wilmington, NC (PRWEB) June 01, 2016
This spring, members of the Marpac team have traveled across the country with the message that "life is noisy…. but you don't have to live with it."
"The notion that adding MORE sound to a bedroom in order to address noise issues is a bit counter-intuitive, we know…" says Jimmy Sloan, co-owner of the company. "But once you've experienced the product, and especially once you've tried it overnight and slept better than ever because of it, there's just no need for further explanation – the benefits are clear."
Marpac's #LifeIsNoisy campaign is part of a larger effort – The Sleep Revolution College Tour - spearheaded by Arianna Huffington and the Huffington Post. The goal of the event series is to raise awareness and spark a national conversation about the importance of sleep and the dangers of sleep deprivation.
"This is something we've been wanting to do for a long time, but we knew we couldn't do it alone," says Marpac Marketing Director, Liz Heinberg. "We believe in the power of sleep to change lives, and we wanted to go beyond just the same 'tired' list of sleep hygiene tips. Internally, our team had dubbed this project the 'Sleep Movement,' but Arianna's goal was the same – so when we were given the opportunity to join in making the 'Sleep Revolution' happen, we jumped at it."
Marpac has been pleased to join Sleep Number, JetBlue, Marriott, Jawbone, Cocomat, Kind, Spotify, Lands' End, Somni, Sleep Shepherd, Headspace, Calm Circle, and others to host "sleep fairs" and slumber parties on campuses, giving students tangible tools and products to learn better sleep habits and make small but transformational changes in their lives.
The Rohm sound machine by Marpac also made its debut on the Tour.
"We invented the first sound machine over 50 years ago, and we're thrilled to be innovating again," says Edie Wine, VP of Marketing and Product. "We have a solid history we're proud of, but really -- we're just getting started."