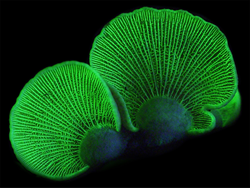 "In the oceans, and on land, living creatures of many kinds have harnessed the power of light in extraordinary ways: to mate, to lie or even to hide under a cloak of light." Sir David Attenborough.
Silver Spring, Maryland (PRWEB) June 02, 2016
CuriosityStream is taking viewers into the natural world with the premiere of two exclusive 4K productions – DAVID ATTENBOROUGH'S LIGHT ON EARTH and MARK EMERY'S AMERICAN WILDLIFE – that engage viewers with expert storytelling around spectacular underwater creatures and fascinating North American ecology.
CuriosityStream is the premiere online destination for ad-free, on-demand nonfiction documentaries from around the world. In time for June, the global streaming service introduces two new exclusive productions (available in 4K and HD) that aim to entertain and educate on the natural wonders of our world.
DAVID ATTENBOROUGH'S LIGHT ON EARTH enchants viewers with the luminous glow of creatures that produce their own radiance. World-renowned naturalist, Sir David Attenborough, uses specially developed low-light color cameras – 4,000 times more sensitive – and a new generation of submersibles to reveal these "living lights" in the soil, on the land and throughout the oceans. Enter into weird and wonderful worlds where creatures use light to hunt, mate and even hide. This special featured film is an original co-production between CuriosityStream and Terra Mater Factual Studios (available to U.S. subscribers only).
"In the oceans, and on land, living creatures of many kinds have harnessed the power of light in extraordinary ways: to mate, to lie or even to hide under a cloak of light," stated Sir David Attenborough. "Yet with the latest cameras and technology we are only beginning to understand the lives of luminous creatures. There remain many mysteries. But what a beautiful world they create… and what a beautiful world awaits the scientists of the future."
MARK EMERY'S AMERICAN WILDLIFE dives deep into the astounding world of rough country cameraman, Mark Emery. While his parents hoped he'd become a concert pianist, Emery wanted to wrestle alligators for a living. Today, he does both as one of America's finest nature cinematographers, who also composes the musical scores for his nature films. Mark's latest short films capture the mesmerizing animals and scenery, from the rich diversity of the Florida Everglades to the spectacles witnessed seasonally on Alaska's Kodiak Island. Created by Wet Waders Inc., this 5-part series is available worldwide in 4K (Ultra HD) and HD.
"There is a wonderful freedom to the online streaming format," stated Mark Emery. "For one, the films are not edited for television, so no false build ups heading into commercials to make you come back. There's no repeating information after a commercial break that drives us all a little batty. You just build the story around the best footage and score the music to the rhythm of the animals' movements."
"From the science of luminescent underwater exhibitions to the adventure of Kodiak bears catching salmon, CuriosityStream's exclusives, David Attenborough's Light On Earth and Mark Emery's American Wildlife, allow expert storytellers to delight viewers with nature's most intriguing spectacles," shared Elizabeth Hendricks North, President and CEO of CuriosityStream. "We're so pleased to debut these 4K productions and perhaps inspire the next generation of naturalists to follow their passion."
CuriosityStream offers worldwide streaming subscriber access at affordable monthly rates for SD ($2.99), HD ($5.99) and now 4K ($11.99). Discounted annual pricing plans are also available. First 30 days are free. Preview CuriosityStream's documentary library by visiting app.curiositystream.com. 4K streaming is available on Amazon FireTV and Roku 4 devices.
Created by the founder of the Discovery Channel, CuriosityStream is the world's first ad-free, on-demand streaming service for quality programs that educate, inspire and entertain. The SVOD service delivers an extensive library of nearly 1,500 high-quality documentaries and series worldwide, available whenever and wherever you want to watch on multiple devices. Watch CuriosityStream on Amazon FireTV, Roku, Amazon Prime, Chromecast as well as Android and iOS devices. Learn more at http://www.curiositystream.com and join the community of the curious on Twitter @CuriosityStream and Instagram @curiosity_stream.
###
Contact:
press(at)curiositystream(dot)com
301-755-2050