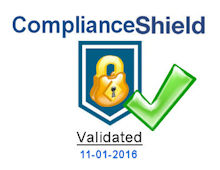 Using a wizard-based program with our leading policy templates, businesses can be up and running in minutes instead of days or weeks.
Houston, Texas (PRWEB) June 02, 2016
Information Shield today announced the general availability of its new "IT security made easy" platform ComplianceShield™. This new software solution enables any business to quickly define, document and demonstrate a robust information security program. ComplianceShield takes the "security policies made easy" concept to a new level, enabling companies to build a complete program around key security best practices. ComplianceShield is ideal for organizations that do not have access to cyber security talent, providing built-in security content and wizard-based automation.
"Thousands of businesses must now demonstrate their cyber security program to third parties – including customers, regulators or cyber insurance providers," said David Lineman, CEO of Information Shield. "For most companies, establishing and maintaining a cyber security program is complex and costly, requiring expensive consultants and much manual effort. We have demystified this process and replaced it with a simple, secure software solution. Using a wizard-driven interface and Information Shield's leading policy templates, businesses can be up and running in minutes."
Defining Cyber Security "Due Diligence"
ComplianceShield enables organizations to quickly define their information security program based on industry best-practices that are culled from various frameworks including ISO 27002, HIPAA, NIST 800-53 and PCI-DSS. The product comes integrated with Information Shield's Common Policy Library (CPL), a rationalized approach to information security that allows organizations to more easily address multiple regulatory requirements with a single solution. A library of reports provides essential documentation that the client is performing cyber due-diligence.
Providing Essential Documentation and Evidence
Once defined, the security program can be quickly documented with the built-in library of information security policy templates and security job descriptions. Clients can then update and track the status of their information security controls, enabling senior management to have a simple view into the status of the entire security program. Clients can then track their progress using the built-in Risk Scoring Report, producing evidence along the way that can be used for internal or external audits.
Information Security Policies Made Easy – The Next Evolution
"Many of our clients have asked for a simple solution to the problem of managing an information security program," said Lineman. "ComplianceShield helps translate our leading security policies into actionable tasks that the organization can assign and manage. It is really the next evolution of Information Security Policies Made Easy. Unlike traditional Governance Risk and Compliance (GRC) tools, ComplianceShield is designed to be used by non-security experts and is very affordable."
Bringing People into the Information Security Equation
People continue to be a weak link in security. ComplianceShield goes further than technical solutions and involves employees in the information security program. Clients can assign security policies, security awareness training and security assessments to employees based on their job function. ComplianceShield clients can easily determine which of their employees or contractors have been trained in basic cyber security principles.
Managing Third Party Information Security Risk
ComplianceShield also enables larger enterprises to quickly gain insight into the security posture third-party vendors. Organizations can easily push out custom security baselines to hundreds or thousands of vendors, gathering responses and evidence directly within the software platform. ComplianceShield replaces large, complicated spreadsheets with a simple, secure system that provides a real-time view into supplier risk.
Staying Up to Date
A robust information security program requires that organizations stay aware of the latest threats, technologies and regulatory changes. ComplianceShield helps address this critical need by providing periodic updates to our CPL Control Library and related policy templates.
A free trial of ComplianceShield is available by registering at the Information Shield web site.
About Information Shield
Information Shield has provided information security policy and compliance products to over 10,000 organizations in 60 countries. Since 2004, Information Shield has focused exclusively on helping organizations document their information security and data privacy programs. Their leading policy template library, Information Security Policies Made Easy, is recognized as the "Gold Standard" policy reference by information security professionals. ComplianceShield™ provides companies with an easy, affordable tool to demonstrate compliance and reduce cyber risk. Organizations can learn more and request a free trial at http://www.informationshield.com