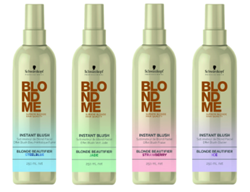 Blonde-haired customers can now fulfill their wish for exciting color highlights that can be achieved either at home, or in a salon.
(PRWEB) June 01, 2016
In the mood for color experiments or a new style for the next festival? Launching June 2016, Schwarzkopf Professional introduces INSTANT BLUSHES, an expansion on its current BLONDME line, created to offer partner salons and clients with even more ways of experimenting with color.
Blonde-haired customers can now fulfill their wish for exciting color highlights that can be achieved either at home, or in a salon. The spray-on BLONDME INSTANT BLUSHES are available in four trendy tones; Strawberry (light rose pink), Ice (lilac), Steel blue (light blue with grey undertone), and Jade (seafoam green). The special feature: The INSTANT BLUSHES stay in for up to three washes, and allow for customers to experiment with color, without the long-term commitment. Use one shade to create a sexy colored ombre, or combine multiple for a technicolor experience.
"Pastel shades are everywhere right now – it's a hot trend," says BLONDME Global Ambassador, Kim Vō.
TECHNOLOGY
The playful BLONDME INSTANT BLUSHES with Kera vitamin complex, nourish hair all the way down to the tips, while acidic pH closes the cuticle of the hair, and rebalances the pH level; resulting in shiny, healthy-looking hair.
AT-HOME APPLICATION
The BLONDME INSTANT BLUSHES are also suitable for use at home: Just spray the INSTANT BLUSH onto the hair, applying from root to tips, and continue applying until the desired intensity is achieved.
"For a more striking look, also spray the strands around the face. If you want a more discreet look, only the strands under the top layer of hair should be sprayed," says Vō.
Comb the hair thoroughly to ensure an even distribution, then blow dry.
KEY LOOKS
For a bit of color inspiration with an edge, Schwarzkopf Professional created four signature looks that are attainable with BLONDME INSTANT BLUSHES. Recreate one of the below, or let your creative side shine through, with a colored masterpiece of your own.
Blush Me!
Create delicate soft rosé effects on the lengths by using BLONDME INSTANT BLUSH STRAWBERRY for a quick pastel color service with low-commitment.
Mermaid Me!
For this on-trend layered aquatic look, apply BLONDME INSTANT BLUSH STEEL BLUE at the tips and then work BLONDME INSTANT BLUSH JADE through the lengths of the hair.
Candy Me!
A true color fit for any client who wants to experiment with pastel looks. Apply BLONDME INSTANT BLUSH STRAWBERRY on the full head to achieve a powdery rosé look.
Cool Me!
Create a cool neutral blonde using BLONDME INSTANT BLUSH ICE at the backwash after lightening or highlighting services. For pure neutralization or a more subtle result, rinse out. Do not shampoo. For a more visible tone direction, leave-in. Dry and style as usual.
Thanks to INSTANT BLUSHES, there are no more limits to color experiments. BLONDME INSTANT BLUSHES will be available in Schwarzkopf Professional partner salons and retailers, beginning in June 2016.
About Schwarzkopf Professional
Schwarzkopf Professional, part of the Beauty Care business unit of Henkel Consumer Goods, has been a leader in the salon industry for the past 118 years. Established as a global leading supplier in the hairdressing business; Schwarzkopf Professional offers brands and technologies that make people's lives easier, better and more beautiful. Based on a professional partnership with the hairdresser, Schwarzkopf Professional focuses on providing innovative concepts and services, which match the needs of their international salon clientele.
Schwarzkopf Professional is present in over 80 countries. Well known international brands include; BLONDME (blonde color, care and styling), leading brand IGORA ROYAL (color), ESSENSITY (color), BC BONACURE (care), and OSiS+ (styling). Schwarzkopf Professional's mission statement, "Together. A Passion For Hair" is their point of difference, and is the unique pulse which unites their business with their salons and consumers. Their daily goal is to bring that passion for hair to life.
Henkel Consumer Goods operates worldwide, with leading brands and technologies in three business areas; Laundry & Home Care, Beauty Care and Adhesive Technologies. Founded in 1876, the company has some 47,000 employees and holds leading global market positions in both the consumer and industrial businesses, with well-known brands such as; Persil, Schwarzkopf, and Loctite.
For additional information, please visit our website at Schwarzkopf-ProfessionalUSA.com. For up to the minute news on all things Schwarzkopf Professional, follow @SchwarzkopfUSA on Instagram and Twitter, and also connect with us on Facebook at: Facebook.com/SchwarzkopfProfessionalUSA.