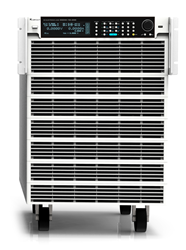 Foothill Ranch, CA (PRWEB) June 02, 2016
Chroma Systems Solutions, Inc., a leading provider of power conversion testing equipment and automated systems, announces the release of the 63224A 24kW DC Electronic Load in its new series of high power DC loads. Designed for testing a wide range of power conversion products including AC/DC and server power supplies, DC/DC converters, EV batteries, automotive charging stations, and other power electronics components, these loads can be synchronously paralleled up to 480kW and dynamically synchronized for generating complex multi-channel transient profiles. The 300% peak overpower capability provides extra headroom for fault condition simulations in automotive batteries, and fuel cells. The entire 63200A series is available in 150V, 600V, 1200V voltage ranges with 2000A maximum current range per unit.
Advantages of the 63200A series include ultra-high density power, built in digital microprocessors, master/slave parallel control, sine wave dynamic loading, and an industry leading measurement accuracy achieving 0.015%+0.015%F.S., 0.04%+0.04%F.S., and 0.1%+0.1%F.S. accuracy for voltage, current and power measurement respectively.
The impressive front panel design includes iconic function selectors via rotary knob or arrow keys and a vacuum fluorescent display. For pain free viewing and access, the entire front panel tilts upward on 7U, 10U and 13U models. Operation can be achieved by the front panel or from a remote workstation via standard USB or optional Ethernet and GPIB interfaces.
The 63200A provides smart Master/Slave mode control which allows the engineer to program the load currents to the Master where they are automatically calculated and downloaded to the slave loads. This control dramatically simplifies operation when using several loads in parallel to emulate a single high power load. All models of the series can be integrated into a standard rack to save space.
Not found in conventional loads, the 63200A offers a dynamic frequency sweep with variable frequencies up to 50kHz. This capability is ideal for determining worst case voltage peaks. Using this function, measurement of the Vpeak (+/-) can be achieved with a sampling rate of 500kHz. The dynamic loading mode can simulate different loading conditions for most test requirements. Dedicated remote load sensors and control circuits provide minimum waveform distortion during dynamic loading.
In addition to common CC, CV, CP and CR loading modes of conventional loads, the 63200A accepts digital data from DAQ cards or analog data from function generators to allow for complex waveforms. The 63200A also provides an enhanced feature, User Defined Waveform (UDW), to simulate the actual current profiles and waveforms. To create the actual current waveform, the user can upload captured waveform data into any load via Chroma's softpanel. Each load is capable of storing up to 10 sets of waveforms with each comprising up to 1.5 million data points to meet the more strenuous test requirements. In addition, the 63200A series also provides voltage peak measurement during actual loading conditions, avoiding the need for an oscilloscope to capture the voltage peak.
For solar applications, the built-in Maximum Power Tracking function traces the maximum power point for solar panels. Simply connect the solar panel to the 63200A electronic load, and the built-in algorithm will trace the maximum power point, calculating the total energy consumed.
Battery discharge modes include CC, CR and CP. The electronic load can set cut off voltage and time (1~100,000 sec.) to end loading ensuring the battery is not damaged due to over discharge. In addition, it can measure the battery discharge power (WH, AH) and total discharge time. For example, when Load ON is pressed, the 63200A internal clock will start counting until the battery voltage drops to its cut off voltage or Load OFF is pressed. The battery discharge test also applies to super capacitors for discharge time testing.
For more information on Chroma's 63200A High Power Programmable DC Electronic Loads, logon to http://www.chromausa.com/product/programmable-dc-electronic-load-63200a or call us at (949) 600-6400.
About Chroma Systems Solutions
Chroma Systems Solutions, Inc. is a leader in providing power electronics and electrical safety testing instrumentation and systems. Chroma's programmable power supplies, electronic loads, meters, hipot testers and automated testing systems provide solutions for applications in Aerospace, Military, Commercial, Medical, Battery, Marine, and Regulatory Testing as well as green energy markets including Solar, Electric Vehicle and LED. With offices and manufacturing facilities located around the globe, Chroma is dedicated to providing the highest quality equipment for compliance and R&D test engineers as well as unparalleled service and support. Chroma Systems Solutions corporate office is located in Foothill Ranch, CA. For more information, please visit http://www.chromausa.com or call us at (949) 600-6400.