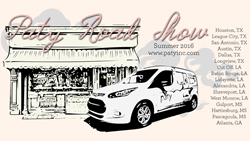 HOUSTON, Texas (PRWEB) June 01, 2016
Paty, Inc. would like to announce the exciting celebration of their 61st Anniversary. The company has been in business designing and producing handmade baby gowns and infant apparel for many decades. To honor their loyal retailers and customers, Paty is going on the road this summer to celebrate with trunk shows, events, and surprise visits across the country. They will begin their tour in Texas next month and then head East to Louisiana, Mississippi, Alabama, and Georgia.
The June schedule for the Paty Road Show has been released and is as follows, July and August to be released next month:
June 4, 2016
10am-2pm
Bering's Hardware
6102 Westheimer
Houston, TX 77057
June 8-11, 2016
Dallas Apparel Market
Showroom #8416
2100 N. Stemmons Frwy
Dallas, TX
June 14, 2016
10am-1pm
The Monogram Shop
5860-H San Felipe
Houston, TX 77057
June 15, 2016
10am-1pm
Mommie Chic & Me
501 E Main (FM518)
Suite 5
League City, TX 77573
June 17, 2016
10am-1pm
Picket Fences
1003 West 34th Street
Austin, TX 78705
June 18, 2016
2pm-7pm
Bambinos
999 E. Basse Rd, Ste 196
San Antonio, TX 78209
June 22-28
Dallas Gift Market
Showroom #8416
2100 N. Stemmons Frwy
Dallas, TX
Paty Children's Apparel is available at fine children's boutiques across the country. To locate retailer near you or for more information please visit http://www.patyinc.com.
To inquire about becoming a retailer for Paty, Inc., please contact:
admin(at)patyinc.com
713-688-7686
About Paty, Inc.
Paty Inc. is a Texas based infant apparel manufacturing company. A leader in the infant apparel industry, they are renowned for handmade baby gowns, layettes, and newborn sets. Paty, Inc. is a family owned business with deep ties to the Houston community.