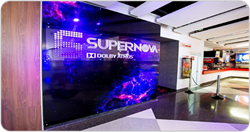 Christie projectors guarantee us flawless performance, quality and brightness, and they are simple and easy for our projectionists to operate
Bogotá, Colombia (PRWEB) June 02, 2016
Christie®, a leader in creating and delivering the world's best visual and audio experiences, is pleased to announce that its DLP Cinema® projectors from the Christie Solaria™ Series were chosen to equip the new Cinemas Procinal multiplex, located in the Mayorca shopping mall in Medellín, Colombia's second largest city. The multiplex has nine screens, one of which is equipped with a Christie CP4230 and the country's first Dolby Atmos audio system, to deliver an immersive sound experience.
​The complex was fitted out by CE+S (Cinema Equipment & Supplies). Currently, Cinemas Procinal has 26 multiplexes in Colombia with a total of 134 screens and seating for 20,440, making it the biggest cinema exhibitor in Medellín. In 2015, the company welcomed 2,400,000 spectators and expects to reach the three million mark in 2016.
The new multiplex's premium theater is called Supernova. It is a PLF (Premium Large Format) theater with the country's first Dolby Atmos system and a silver screen measuring 8.9 meters high by 15.8 meters wide, for almost 150 square meters. To light such a vast screen it uses a Christie CP4230 projector with 4K resolution and a brightness of 34,000 lumens, powered by a Doremi IMS1000 server. The theater seats 300 people and is 3D ready with the RealD system.
The rest of the screens in the new complex are conceived for a variety of formats. For instance, the Cine Arte screen shows independent films, the VIP Black Star theater has comfortable reclining seats, and the 4DX theater features many exciting innovations like motion and vibrating seats, lightning effects, smells, smoke effects, etc.
This is by no means Cinemas Procinal's first experience with Christie. In fact, 50 percent of the company's screens use the brand's projectors. "Christie projectors guarantee us flawless performance, quality and brightness, and they are simple and easy for our projectionists to operate," explained Juan Carlos Mayungo, managing and financial director of Cinemas Procinal, adding that "besides, Christie also affords us unbeatable post-sales back up and support, and the fact that it has offices here in Colombia makes the relation even more favorable."
Proof of the excellent relationship can be seen with Cinemas Procinal's recent purchase of five new projectors from the Christie Solaria Series for its new multiplex in the Aventura shopping mall in Medellín, which is set to open in July this year. The company is also considering acquiring the innovative Christie Vive Audio™ cinema audio solution for the Viva La Ceja shopping mall in Antioquia, which is due to open toward the end of 2016.
Diego López Villamil, Christie general manager for NOLA (North Latin America), concluded: "Cinemas Procinal has always been at the forefront of adopting new technology and it is a leader in offering its spectators state-of-the-art film technology. That's why we are delighted that it continues placing its trust in our brand for its new screens."
About Christie®
Christie Digital Systems USA, Inc. is a global visual technologies company and is a wholly-owned subsidiary of Ushio, Inc., Japan, (JP:6925). Consistently setting the standards by being the first to market some of the world's most advanced projectors and complete system displays, Christie is recognized as one of the most innovative visual technology companies in the world. From retail displays to Hollywood, mission critical command centers to classrooms and training simulators, Christie display solutions and projectors capture the attention of audiences around the world with dynamic and stunning images. Please visit http://www.christiedigital.com.
Follow us:
Twitter.com/christiedigital
Facebook.com/christiedigital
#christiedigital
"Christie" is a trademark of Christie Digital Systems USA, Inc., registered in the United States of America and certain other countries.
"Solaria" and "Vive Audio" are trademarks of Christie Digital Systems USA, Inc., registered in the United States of America and certain other countries.
​​
DLP Cinema is a registered trademark of Texas Instruments.
"Dolby", "Dolby Atmos", and the double-D symbol are registered trademarks of Dolby Laboratories, Inc.