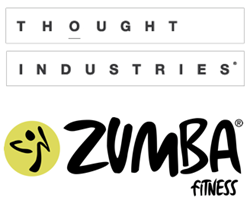 Zumba's partnership with Thought Industries represents a perfect convergence of commerce and online learning.
Boston, Massachusetts (PRWEB) June 01, 2016
Fitness enthusiasts can now have their shake and drink it too, thanks to the launch of Zumba 'Shake Shake Shake™. Consumers who purchase the protein-packed, goodness-filled, 100 calorie drink, will also receive access to its e-learning platform, which provides extensive tools and benefits to incorporate Zumba's plant-based shake into everyday life. The full Zumba Shake Shake Shake™ package is an effective complement to live Zumba®classes, which are shaking up the fitness industry in 200,000 locations worldwide.
The online experience is being delivered by Thought Industries, one of the fastest growing online learning companies and creator of the first Learning Business Platform™. Since launching the website for Zumba 'Shake Shake Shake™ in April 2016, the response has been tremendous, having already fulfilled a high volume of orders within the first month.
Zumba's partnership with Thought Industries represents a perfect convergence of commerce and online learning. By leveraging the Thought Industries' Learning Business Platform and its consolidated set of features, Zumba is delivering a fully branded web experience, selling physical products and offering online courses all from a single cloud-based solution. Multiple backend processes such as order fulfillment and shipping and tax calculations are also being driven from the platform, minimizing complexity and streamlining the ability to go to market.
"A common thread among innovative companies like Zumba is they are constantly coming up with new ideas to take to market in order to excite, motivate and grow the success of their community," said Doug Murphy, President of Thought Industries, "We have really enjoyed working with the Zumba team and helping them deliver on their visions for a more integrated customer experience."
About Zumba Fitness, LLC
Zumba Fitness is a global lifestyle brand that fuses fitness, entertainment and culture into an exhilarating dance party workout. Known as the ultimate "fitness-party", Zumba classes blend upbeat world rhythms with easy-to-follow choreography, for an effective, total-body workout. Founded in 2001, the company is the largest branded fitness program in the world reporting more than 15 million weekly participants, in over 200,000 locations across more than 180 countries. The Zumba fitness lifestyle is rounded out by the company's many consumer product offerings, including DVD sets, music collections, multi-seasonal apparel and footwear, video games and Fitness-Concert events. For more information about Zumba Fitness programs and products, or to find a live class, visit http://www.zumba.com.
About Thought Industries
Thought Industries is powering the business of learning with the world's first Learning Business Platform™. Offering a comprehensive suite of enterprise-level learning delivery and monetization tools, the customizable platform enables businesses and organizations to deliver engaging and fully-branded learning experiences to their business and consumer audiences. From creating online courses to managing an online learning business, the platform hosts a library of powerful, easy-to-use features that enable organizations to get to market quickly and cost-effectively.