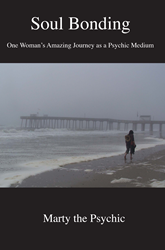 The New Memoir by the Psychic to the Stars
Staten Island, NY (PRWEB) June 01, 2016
Newly published author of Soul Bonding: One Woman's Amazing Journey as a Psychic Medium, Marian Zinicola, affectionately known to her clients as Marty the Psychic, released her first book this month and had a book signing on Sunday at Pepper Jack Grill. More than 100 guests attended the book signing to get the first copies of Soul Bonding with Marty the Psychic. The medium's first novel shares stories of the readings she has done from Staten Island to California and the aftermath of these readings. Whether in her home, at a "Marty Party" or on the airplane, Marty delivers important messages from the dearly departed to her clients.
As a native New Yorker, Marty's great hometown is a backdrop for many of her readings. She's worked with families of 9/11 victims to help them heal and move on with their lives, as well as those who suffered following Hurricane Sandy. Marty has also partnered with NYPD detectives and other law enforcement officials to solve several well-known cases. Locally, Marty has worked on cases that have touched Staten Island such as when Jennifer Schweiger, a 12-year-old Down syndrome girl, went missing and was tragically found dead on the grounds of the former Willowbrook State School in 1987. She has also helped aid police in their search for wanted criminals such as the Ninja Burglar.
Marty has channeled everyone from John Lennon and Michael Jackson to Walt Disney and Biggie Smalls. She's read celebrities including athletes, authors, TV personalities and musicians. One such interview featured in the book is with Academy Award-nominated composer John Debney, known for his work in movies like "The Passion of the Christ," and most recently "The Jungle Book." Debney says about his experience with Marty, "In your readings, Marty, sometimes the smallest details are amazing and powerful to hear. Those little things separate you from other psychic readings I've had."
She's performed house blessings and helped accurately diagnose illnesses, often before her clients have been to the doctor. Marty has used her gift, which has not always been easy to cope with, to help hundreds of people find closure by connecting them with their deceased and sharing urgent messages with them. These messages are the stories she shares throughout her book, Soul Bonding.
Boulevard Books is an educational publishing company founded in 2010 by author and educator Avi Gvili.