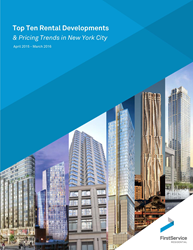 New York, NY (PRWEB) June 02, 2016
FirstService Residential, New York City's leading residential management company, has announced the results of its second semi-annual study which analyzed more than 9,150 unique apartment vacancies at 121 of New York City's luxury rental buildings, tracked from July 1, 2014 to March 31, 2016.
The comprehensive report updates the top 10 luxury rental properties in New York City, all of which are in Manhattan, based on average annualized asking rent per square foot, as well as additional insights into current luxury housing trends – from asking rents and apartment type to commercial conversions and number of units.
Based on FirstService Residential's study, New York City's top 10 luxury rental buildings are:
1. Grand Tier
2. The Corner
3. 2 Cooper Square
4. Prism at Park Ave South
5. Beatrice
6. The Larstrand
7. Hawthorn Park
8. The Caledonia
9. New York by Gehry
10. Avalon Bowery Place
Nine of the 10 buildings on this list were also included in the top 10 reported in the company's Fall 2015 report – only Avalon Bowery Place is new. These buildings showed an average asking rent of $99 per square foot, however, the rate of concessions – including free rent and owner-paid fees – has increased since last fall.
"We are starting to see a softening in New York City's luxury rental market with a lot of supply in the pipeline," says Robert Scaglion, executive managing director, FirstService Residential. "Our goal was to not only call out the top buildings in New York, but to also analyze trends in operations across the city to gain better insight into what is driving the continued success of top rental properties."
In addition to Manhattan, FirstService Residential also gathered data from luxury high-rises in Long Island City, Downtown Brooklyn and Williamsburg. Key insights include:

The frequency of lease concessions has increased in Manhattan (including the top 10) and Williamsburg, but has decreased in Downtown Brooklyn and Long Island City.
Top 10 properties have asked more per square foot for larger apartments than for studio apartments; this is the reverse of the pattern observed at other luxury rentals.
The number of units at a property has affected asking rents differently depending on tier and location, but has had relatively little impact at top 10 properties or in Long Island City. In Manhattan and Downtown Brooklyn, smaller buildings (those under 200 units) asked slightly more per square foot, while the reverse is true in Williamsburg.
Buildings converted from commercial to luxury residential use in the past 15 years have shown a pattern of seasonality similar to recently developed rental properties, although some buildings in the conversions group increased asking rents earlier in the year compared to new developments, recovering comparably faster from the softer winter market.
In New York City, FirstService Residential's management portfolio comprises more than 500 rental, condominium, and cooperative properties with an aggregate value of more than $6 billion. This includes more than 70,000 residences that are home to over 200,000 people in properties ranging from luxury towers and new developments to prewar landmark buildings and apartment complexes.
For additional insights into New York City's luxury housing market, and to view the complete report findings, click here.
About FirstService Residential
FirstService Residential is North America's largest manager of residential communities and the preferred partner of HOAs, community associations and strata corporations in the U.S. and Canada. FirstService Residential's managed communities include low-, mid- and high-rise condominiums and cooperatives, single-family homes, master-planned, lifestyle and active adult communities, and rental and commercial properties.
With an unmatched combination of deep industry experience, local market expertise and personalized attention, FirstService Residential delivers proven solutions and exceptional service that add value, enhance lifestyles and make a difference, every day, for every resident and community it manages. FirstService Residential is a subsidiary of FirstService Corporation, a North American leader in the property services sector.