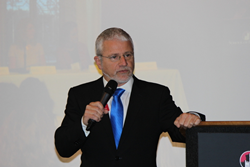 Sharing my mother's story is important to this and future generations
Purchase, NY (PRWEB) June 01, 2016
An overflow of students, faculty, administration, and business professionals recently gathered at Reid Hall at Manhattanville College in commemoration of Yom Hashoah Holocaust Remembrance Day. Dr. Anthony Davidson, Dean of the Manhattanville School of Business recounted his mother's story, "From Munkatch to Manchester through the Gates of Auschwitz: A Personal Story of Courage, Heroism, and Survival During the Holocaust." Special guests included President and Mrs. Jon C. Strauss, members of the College Leadership, Dr. Marsha Gordon, President/ CEO of Business Council of Westchester, and Dee Delbello, CEO/Publisher, Westfair Communications.
Dr. Davidson's mother's memoirs and story are held in the United States Holocaust Memorial Museum in Washington, D.C. The presentation was recorded and is available in the Manhattanville Library and downloadable here.
"Sharing my mother's story is important to this and future generations," said Dr. Davidson. "Her strength and courage in risking her own life to save the lives of strangers is something from which we can all learn both as individuals and as a nation."
The event was arranged by Father Wil Tyrrell, Chaplain at Manhattanville College and supported by Duchesne Center for Religious and Social Justice, College Chaplains, Catholic and Hillel Student Associations, International Studies, Genocide & Holocaust Studies, and the School of Business.
About Manhattanville College
Manhattanville College (http://www.manhattanville.edu) is an independent, co-educational liberal arts institution dedicated to academic excellence and social and civic action. Manhattanville prepares students to be ethical and socially responsible leaders in a global community. Located just 30 minutes from New York City, Manhattanville serves 1,800 undergraduate students and 1,000 graduate students from more than 45 countries and 40 states. Founded in 1841, the College offers more than 90 undergraduate and graduate areas of study in the arts and sciences, education, and business as well as continuing and executive education programs.