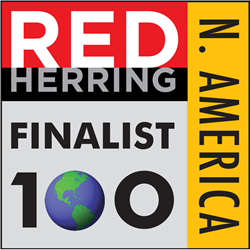 "Red Herring's methodology is incomparable... We are honored to be among the finalists for the 2016 Red Herring Top 100 within North America."
Pleasanton, Calif. (PRWEB) June 01, 2016
SmartZip Analytics (http://www.smartzip.com), the leader in predictive marketing technology for real estate and related industries, announced today it has been selected as a finalist for Red Herring's Top 100 North America award. This prestigious list honors the year's most promising private technology ventures from the North American business region.
Red Herring has been selecting the most exciting and promising start-ups and "scale ups" since 1995. Finalists are evaluated individually from a large pool of hundreds of candidates based across North America. There are twenty major criteria underlying the scoring and process, including the candidate company's addressable market size, IP and patents, financing, proof of concept, trailing revenues and the expertise of its management team. Each company goes through an individual interview after filling out a thorough submission, complemented by due diligence from the Red Herring panel. The list of finalists includes some of the best performing and prominent companies of that year.
This unique assessment of potential is in addition to a review of the company's actual track record and standing, which allows Red Herring to see past the "buzz" and make the list a valuable instrument for discovering and advocating the greatest business opportunities in the industry. In addition to this year's standing, SmartZip was named one of the Red Herring Top 100 for North America in 2014.
"Red Herring's methodology is incomparable -- they are known throughout the technology landscape for their comprehensive, discerning analysis of a company's success and potential for future growth," said SmartZip president and CEO Avi Gupta. "We are honored to be among the finalists for the 2016 Red Herring Top 100 within North America."
Finalist selections for the 2016 edition of the Red Herring 100 North America award are based upon technological innovation, management strength, market size, investor record, customer acquisition and financial health. During the several months leading up to the announcement, hundreds of companies in the fields of security, Web 2.0, software, hardware, life sciences, cloud, mobile and others completed their submissions to qualify for the award.
2016 will be remembered as a special vintage. "The finalists' list confirms the excellent choices made by entrepreneurs and VCs and the start-ups' solid roots in corporate America, embracing their innovations. By all metrics, it emphasizes the United States' entrepreneurial excellence," said Alex Vieux, publisher and CEO of Red Herring.
Finalists are asked to present their winning strategies at the Red Herring North America Forum in Newport Beach, CA., June 6 to 8, 2016. The Top 100 winners will be announced during a special awards ceremony the evening of June 8.
About SmartZip Analytics, Inc.
SmartZip Analytics is a national leader in predictive marketing solutions for real estate and related industries. Using patent-pending home intelligence, predictive analytics and automated marketing campaigns, SmartZip's SmartTargeting platform offers an integrated solution that can identify top prospects accurately, and engage them through targeted online and offline marketing channels. Leading national real estate companies, including realtor.com, Homes.com, ZipRealty.com, HomeSnap, RealtyStore.com and others rely on SmartZip's best-of-breed analytics for their online businesses.
SmartZip is backed by Intel Capital, Claremont Creek Ventures, Crest Capital, Javelin Venture Partners and Cue Ball Capital, and is headquartered in Pleasanton, CA.