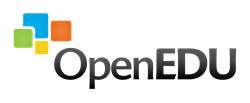 "We are proud to release OpenEDU to the Drupal and higher education communities."
Vancouver, BC (PRWEB) June 01, 2016
ImageX is pleased to announce the launch of OpenEDU, a modular Drupal-based website framework built for higher education institutions. Developed over the past five years, and based on the learnings from dozens of higher education web development projects by ImageX, OpenEDU is now available for free download through http://www.drupal.org.
Out of the box, OpenEDU saves organizations and developers time and effort to create and launch a fully functional school website. Our base code includes a dynamic higher education taxonomy structure that seamlessly pairs complex relationships and dependencies between a college or university's schools, departments, classes, and faculty. Hallmarks of OpenEDU include:
-Pre-configured relationships between schools, departments, faculty, courses and staff;
-Multipoint content syndication - internally throughout schools and externally to interested parties and applications;
-Customizable content governance controls and publishing processes;
-Flexible authentication methods including social network accounts or your own custom proprietary tool;
-Unlimited theming flexibility and layouts for each school, department, or specialized initiative. Each site is centralized into one system with robust autonomy in design and content types used;
-Complete management over multiple events and notify relevant sites about what's happening campus-wide; and,
-A full API infrastructure allowing schools to integrate everything from mobile applications, RSS feeds, Learning Management Systems, and much more.
To experience how OpenEDU can empower your school's web presence, please visit http://www.imagexmedia.com/openedu
"Since 2011 when ImageX built the first version of OpenEDU, we felt it could have a significant impact on higher education institutions who choose to run their websites on Drupal," said ImageX CEO & Founder Glenn Hilton. "After a few dozen web implementations for some of North America's most prestigious University and College's, our original hypothesis was validated and we are proud to release OpenEDU to the Drupal and higher education communities."
OpenEDU can be downloaded from https://www.drupal.org/project/openedu
About ImageX
ImageX has been a Drupal-exclusive web agency since 2006 and has delivered more than 250 Drupal sites to some of the world's most prestigious brands, including Apple, Samsung, Adidas, Disney, Adobe, The Discovery Channel, Arizona State University, and Stanford University. To learn more, please visit http://www.imagexmedia.com.