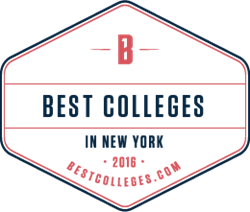 Houston, TX (PRWEB) June 08, 2016
BestColleges.com is pleased to announce new rankings of the top colleges in New York state. Visitors to the site have the opportunity to read about the state's 25 best four-year, two-year and online college programs in New York state. All three rankings were created using a methodology that weighs affordability, enrollment, graduation rates, student outcomes and other data curated from the National Center for Education Statistics (NCES). These resources are designed to help prospective students explore their academic options in the Empire State and determine which accredited postsecondary institution is a suitable match for their budget, degree pathway and career goals.
Each ranking is supplemented with information about educational initiatives in New York, enrollment statistics, tuition rates and other pertinent topics. The four-year guide begins with a look at New York's Statewide Plan for Higher Education 2012-2020, which seeks to increase college enrollment across the state by improving accessibility at all SUNY institutions. This guide also notes that the average New York resident pays more than $20,000 in in-state tuition each year, but these costs are somewhat alleviated by New York's Tuition Assistance Program for students with financial need and the state's strong hiring/employment rates among degree-holding graduates. Vassar College took the top spot in our four-year college ranking, with Columbia University, Hamilton College, Cornell University and Colgate University rounding out the top five.
The BestColleges.comBestCollege's report notes that the state of New York provides roughly $235 million in financial assistance every year to students who enroll at two-year colleges and universities. Governor Andrew Cuomo has also been a vocal supporter of the Obama Administration's proposal to provide free community college education to all qualifying students. Corning Community College earned first-place ranking on our list of two-year schools. This institution of roughly 5,300 enrolled students offers more than 40 academic programs and competitive in- and out-of-state tuition rates. Columbia-Greene Community College, Suffolk County Community College, Villa Maria College and SUNY Broome Community College placed second through fifth, respectively.
The rankings report also highlights data from a 2012 NCES summary about the state of web-based higher education. More than 6% of New York college students were enrolled in a fully online degree program that academic year; roughly 83.9% of these learners were studying at the undergraduate level, and nearly 20% attended public four-year institutions. The guide also notes that a 2014 initiative in New York seeks to expand distance learning opportunities across the state. New York University took the top tier on our ranking, followed by St. Joseph's College - New York, SUNY College of Technology at Alfred, Marist College and Stony Brook University.
The top 10 ranked institutions in all three categories are listed below.
Best Four-Year Colleges in New York
1. Vassar College - Poughkeepsie, NY
2. Columbia University in the City of New York - New York, NY
3. Hamilton College - New York, NY
4. Cornell University - Ithaca, NY
5. Colgate University - Hamilton, NY
6. Barnard College - New York, NY
7. Skidmore College - Saratoga Springs, NY
8. University of Rochester - Rochester, NY
9. New York University - New York, NY
10. St. Lawrence University - Canton, NY
Best Two-Year Colleges in New York
1. Corning Community College - Corning, NY
2. Columbia-Greene Community College - Hudson, NY
3. Suffolk County Community College - Selden, NY
4. Villa Maria College - Buffalo, NY
5. SUNY Broome Community College - Binghampton, NY
6. Niagara County Community College - Sanborn, NY
7. Dutchess Community College - Poughkeepsie, NY
8. Nassau Community College - Garden City, NY
9. Rockland Community College - Suffern, NY
10. Schenectady County Community College - Schenectady, NY
Best Online Colleges in New York
1. New York University - New York, NY
2. St. Joseph's College - New York - Brooklyn, NY
3.SUNY College of Technology at Alfred - Alfred, NY
4. Marist College - Poughkeepsie, NY
5. Stony Brook University - Stony Brook, NY
6. Rochester Institute of Technology - Rochester, NY
7. St. John Fisher College - Rochester, NY
8. CUNY Lehman College - Bronx, NY
9. SUNY at Plattsburgh - Plattsburgh, NY
10. The Sage Colleges - Troy, NY