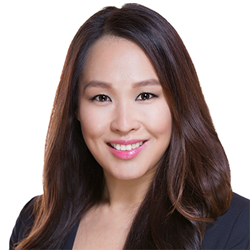 To have someone as accomplished and intelligent as Christine at Climb is wonderful.
San Francisco, CA (PRWEB) June 02, 2016
San Francisco-based Climb Real Estate is pleased to announce their affiliation with Christine Ko, who will join the real estate team as a Senior Sales Associate.
"I first met Chris Lim and Mark Choey when Climb first opened. I joined in on an agent meeting to set up relationships for channel partners. After almost 7 years of channel partners, I decided to join Climb." Ko said. "I'm an individual agent. I want to be knowledgeable in all burgeoning markets in the Bay Area, as my roots are in the South Bay but I now live in San Francisco's fastest-growing neighborhood."
Ko focuses on the South Bay, Peninsula, Mission Bay, and South Beach, working primarily with luxury homes, investment properties, and multi-residential properties.
Ko has worked in real estate for 10 years and has experience as a Silicon Valley entrepreneur. She is highly in tune with the San Francisco and South Bay real estate markets and uses this knowledge in tandem with her personable approach to ensure her clients have a stress-free experience.
Michelle Balog, Climb's Managing Sales Director, said, "To have someone as accomplished and intelligent as Christine at Climb is wonderful. She is a driven, passionate individual, and we are lucky to have her on the team."
"I'm incredibly excited to have Christine Ko join our team from Keller Williams," said Chris Lim, CEO of Climb Real Estate. "I've been following her career since she was awarded 'Top 30 under 30.' She's a great talent, a smart businesswoman, and a great representative of a new breed of real estate agents. I could not be more pleased to have her at Climb representing buyers and sellers throughout the Bay Area."
Christine Ko lives in Mission Bay and serves on the board of the Korean American Professional Society. In 2013, she was chosen as one of Realtor Magazine's Top 30 Under 30, and she is an avid food photographer.
About Climb
Climb Real Estate is a recognized leader in the marketing and sales of Bay Area residential real estate. The San Francisco-based independent and locally-owned brokerage is proud to be the leader in the purchase and sale of a diverse array of homes: from $80,000 parking spots to million-dollar mansions, new development studios to luxurious view penthouses, live/work lofts to charming bungalows and single-family homes. With over 11 years of experience in marketing and collective sales in excess of a billion dollars, Climb Real Estate offers unparalleled marketing and sales expertise with offices in Potrero Hill, Noe Valley, Mission Bay, and Oakland's Jack London Square.