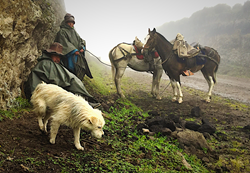 Over the years, I have been lucky enough to have been a part of countless relief initiatives and experienced firsthand what it's like to help a fellow human in need,"
Great Barrington, MA (PRWEB) June 01, 2016
Relief Riders International, award-winning humanitarian-based adventure travel company, is pleased to announce its latest philanthropic horseback riding initiative, a relief ride that will bring much-needed aid to areas in need in both the Andes Mountains and the Amazon rainforest. This ride marks RRI's first time venturing into South America, spearheaded by Founder Alexander Souri. This latest trip is scheduled to take place from the 6th to the 18th of August, 2016 and costs $6,950 per person, including accommodations and food daily, excluding international flights.
During the 12 day ride, the group will work in partnership with Ecuadorian Red Cross to perform a Dental and Obstetrics programs in the remote villages of Piñan in the Andes and Llamachamcocha in the Amazon, both of which are so isolated that they have no immediate access to health care.
In addition to these life-changing volunteer opportunities, participants will ride through the stunning Andean paramo to the Quechua village of Piñan, located on a magnificent Andean plateau. From there the group will journey into the heart of the Amazon, where they will spend 5 days immersed in the local culture. This portion of the trip will include canoe rides down the headwaters of the Amazon and a trek through the jungle with the indigenous Sàpara tribe, providing in-depth knowledge of the importance and value of the Amazon rainforest.
"Over the years, I have been lucky enough to have been a part of countless relief initiatives and experienced firsthand what it's like to help a fellow human in need," comments RRI Founder and Executive Director Alexander Souri. "This latest ride will be one of the best yet, bringing together an unforgettable travel experience with the opportunity to truly make a difference in the world around us. I am particularly honored to take part in an expedition that that takes us to the front lines of climate change given that the Amazon is considered the lungs of the planet."
The Andes/Amazon Relief Ride will begin in Quito, Ecuador and will be limited to a select number of participants, so interested individuals are encouraged to sign up as soon as possible.
For more than a decade, Relief Riders International has been spearheading humanitarian missions across the globe. Since its inception in 2004, RRI has helped over 25,000 individuals, including 18,700 children in India and Turkey. The aid is delivered via a unique concept known as "voluntourism," through which individuals are able to explore some of the world's most beautiful locales on horseback while also participating in hands-on humanitarian initiatives, such as assisting at a dental clinic, distributing livestock or volunteering at a local school.
For more information about RRI, or to reserve your spot on this monumental trip, please contact:
http://www.reliefridersinternational.com / info(at)reliefridersinternational(dot)com
Tel: 413.329.5876
About Relief Riders International:
Relief Riders International is a humanitarian-based, adventure travel company that organizes horseback and now motorcycle journeys through remote areas while providing humanitarian aid to local people. Since 2004 Relief Riders International has delivered much-needed aid to rural India and has helped more than 25,000 people to date. In 2010, RRI received the United Nations NGO Positive Peace Award. Founder & Executive Director, Alexander Souri set up Relief Riders International in 2004 and Relief Workers International in 2008. He designs and supervises each relief mission, coordinates work of the core team, and directs marketing and sales efforts. Born in NYC, to a French mother and an Indian father, Alexander has always had a global perspective on life. As a young boy he was educated at a boarding school in India and he continues to travel there frequently.
Alexander Souri, Relief Riders International
Tel: 413.329.5876
http://www.reliefridersinternational.com
info(at)reliefridersinternational.com