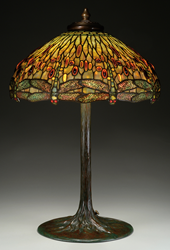 With hundreds of quality items offered without reserve, collectors from all over the world should be able to find many treasures, and even some bargains, during this two day sales event. - Mike Fredericks, Department Head
Fairfield, Maine (PRWEB) June 02, 2016
Collectors seeking the finest selections of jewelry, glassware, silver, lighting, furniture, and other decorative treasures need look no further than James D. Julia's annual June Lamps, Glass, and Fine Jewelry auction! This comprehensive and well curated auction features over 1100 lots equaling nearly $5 million in inventory. This is the largest and highest quality sale offered by this division and offers collectors fantastic buying opportunities in every major category. This two-day sale will occur on June 16th and 17th, 2016 in Julia's Fairfield, ME auction gallery starting at 10am each day. Preview will be held on June 15th, 2016 from 9am-5pm or by appointment.
This gem of a sale opens with over 160 lots of fine jewelry, with selections ranging from Victorian to Art Deco, to contemporary styling. Many of these originate from an unreserved private Texas collection. Highlights include lot #1038, a handsome Man's Jaeger Lecoultre Master Control Grande Memovox watch (estimated at $10,000-15,000), lot #1070, a stunning Art Deco diamond and sapphire bracelet (estimated at $ 12,000-15,000), and lot #1045, a gorgeous platinum, jade, and diamond pendant featuring a carved Buddha, estimated at $11,000-14,000.
Silver is an important category in this auction, and collectors are certain to take a shine to the more than 40 fine lots available from Tiffany, Gorham, Jensen and others. Of particular note is lot #1180, estimated at $150,000-250,000, which is extraordinary in so many ways. This Tiffany mixed-metal offering consists of two single candlesticks and two double arm candelabras; all have hammered sterling silver bodies with copper and gold applied decoration in an Oriental motif with insects and foliage. One candelabra and one candlestick are monogrammed "M.J.M." for Mary Jane Morgan (1821-1885), one of the most significant patrons of American mixed metal silver in the Japanese taste. Morgan, the wife of Charles Morgan, a shipping and railroad magnate, used her $9 million inheritance to amass a spectacular collection of fine and decorative arts.
This sale's fine selection of Wedgwood Fairyland Lustre examples is pure magic. Over 25 lots from various collections are available, many without reserves. Highlights include lot #1214, a vase decorated in the beloved "Imps on a Bridge" pattern. This great piece, featuring green imps crossing a bridge, a blue Roc bird, and a large serpent climbing a tree all against a rare "flame" colored sky background, is estimated at $4,000-6,000. And lot #1224, a Wedgwood Fairyland Lustre Pillars vase, is also a big deal. This 14" vase, the larger and rarer of the two sizes originally produced, is estimated at $15,000-20,000. This extremely appealing vase is detailed with a lustre background, a light blue and green striated glaze with leaf border, and fairies riding on birds and insects.
The Victorian glass selection offered in this sale is truly worthy of a crown, with many spectacular examples coming from the unreserved collection of Mrs. Jackie and the late Dean Ballard. The Ballards had a fine eye for Mt. Washington Royal Flemishware, which was produced to mimic stained glass and featured gold embellishments. Two Royal Flemish highlights from the Ballard collection include lot #1288, a snow geese vase, decorated with five snow geese in flight, a large sunburst, and panels of blue and teal separated by raised gold gilding and stars, and lot #1294 a Guba duck vase, decorated with ten Guba ducks around a gilded stylized sunrise set against a light cream satin ground. These high flying examples are estimated at $3,000-5,000 and $4,000-6,000 respectively.
Other Victorian glass highlights include a nice offering of Webb cameo vases, with a highlight being lot #1263. This large red and white wonder, estimated at $17,500-22,500, features intricately carved white cameo flowers, stems, and leaves; large mosquito flies; a wispy curtain design background; and white cameo stylized bands around the foot and neck. Another rarity is lot #1272, a Wheeling peach blow rose bowl, estimated at $3,000-5,000. This Victorian-era beauty features a bulbous body, heavily ruffled rim, with an unusual lavender interior, and an applied amber lip.
American art glass makes a colorful appearance during the first day of this sales event, with breathtaking examples from well known brands including Quezal, Steuben, and Durand, among others, on offer. Many come from the unreserved estate of the late David Barnett. There's no stopping lot #1358, a Steuben green aurene decorated vase, estimated at $3,000-5,000. This lovely example features a gold iridescent heart, leaf, and vine decoration against a shaded green aurene background.
This auction's selections of fine antique American lighting should electrify collectors. Julia's is delighted to present the unreserved collection of Dr. & Mrs. Brian Bojesen, which features in part over 30 spectacular turn-of-last-century lamps. Highlights from this collection include lot #1314, a beautifully colored Handel 6688 floral and butterfly table lamp on an original Handel tree trunk base (estimated at $4,000-6,000); lot #1333, an elaborate, Middle Eastern themed Pairpoint Garden of Allah table lamp decorated with camels, pyramids, and Persian carpet renderings estimated at $2,500-3,500; and lot #1330, a lovely Moe Bridges poppy table lamp, estimated at $2,000-4,000.
Additional antique American lighting also worthy of the spotlight from day one of this sale include lot #1412, a very rare Handel mountain stream table lamp estimated at $10,000-15,000; lot #1453, a Pairpoint puffy rose bouquet table lamp with deep red and pink roses estimated at $8,000-12,000; and lot #1460, a Pairpoint puffy apple tree table lamp, estimated at $20,000-25,000.
The end of day one of this fine sale is held down with a fine collection of paperweights. Almost 80 selections are on offer, including examples from contemporary artists as well as popular brands like St. Louis and Baccarat. Collectors will certainly take note of lot #1506, an amazing Paul Stankard cloistered botanical sculpture. It features realistically rendered thistles and blue wild flowers on a sandy ground, a detailed root system, and playful visiting spirits. This signed, one-of-a-kind floral fantasy, is estimated at $6,000-8,000.
Day two of this comprehensive sale kicks off with breakfast at Tiffany's - literally - with over 200 lots of fine Tiffany lighting, art glass, and metal wear on offer. This is perhaps the most stunning and diverse offering of Tiffany brand decorative arts to come to auction in recent memory.
Tiffany lamps in this category truly shine. Four examples are highlighted first by lot #2016, a Tiffany Studios drophead dragonfly table lamp, estimated at $125,000-200,000. This most desirable example features nine dragonflies around the circumference of the shade, with their heads and wings creating an irregular border. The dragonflies are made from acid-etched red, green and yellow glass; each has red cabochon glass eyes. The shade rests upon a large Tiffany Studios tree trunk base with a six socket cluster.
The second is lot #2005, a Tiffany Studios geranium table lamp, estimated at $ 80,000-95,000. This blooming beauty has a cone-shaped leaded shade with rich red geranium flowers, large mottled blue and green leaves, and a background of exceptional multi-colored confetti glass.
The third is lot #2035, a Tiffany Studios belted rose table lamp, rare with a 20" shade of this pattern, estimated at $80,000-100,000. This example has a dome shade with a wide band of intricate red, pink, and lavender roses, green and blue mottled leaves, and a nicely mottled yellow and cream background. A Tiffany Studios twisted vine base with an etched heat cap and blue Favrile ball finial completes its remarkable presentation.
And last but hardly least, the fourth Tiffany lamp highlight is lot #2081, a Tiffany Studios black-eyed susan hanging fixture, estimated at $40,000-60,000. This gorgeous rarity is a ray of sunshine with copious blossoms, green leaves, and brown stems all against a shaded green and cream ground.
Tiffany art glass is very well represented in this sale, including a virtual garden of Tiffany flower-form vases, among other design favorites. Tiffany produced very few cameo style works; as such, they are coveted by collectors in the know. Two "hidden jewels" in this event include lot #2069, a yellow cameo vase decorated with ivy leaves and vines (estimated at $15,000-20,000) and lot #2002, a frosted cameo vase detailed with purple berries and green leaves and vines, estimated at $12,000-15,000. Lot #2020, a Tiffany Aquamarine vase, also makes a splash in this category with its $35,000-45,000 estimate. It features life-life water lilies, lily pads, and white lily flowers in a ground giving way from deep aquamarine to clear glass. And lot #2084, a bright Red Tiffany Favrile vase, should stop collectors right in their tracks. This signed example, estimated at $7,500-9,500, is decorated with swirling bands of blue-gray iridescent lines.
This auction features a terrific variety of Tiffany metalwork items, including desk accessories, thermometers, clocks, candelabra, candlesticks, and desk lamps. Legacy patterns including Abalone, Double X, Grapevine, Nautilus, Pine Needle, and Zodiac, among many other A to Z favorites, are all represented in the mix. Hold everything and check out lot #2431, an enameled copper Tiffany box from the unreserved collection of Dr. & Mrs. Brian Bojesen. This copper box, featuring a repousse pattern of stylized yellow, green, and red leaves on a blue ground, is estimated at $3,000-5,000.
What's old is new when it comes to this sale's fantastic array of Art Nouveau furniture. This is a new category for this event, and an ideal complement to the Louis Icart Prints, Larche and Korschann bronzes, and other decorative arts of the same period being offered simultaneously through this auction. Breathtaking selections of tables, chairs, desks, pedestals, mirrors, and consoles from world-class manufacturers, including Majorelle and Galle, are on offer. Lot #2208, a c. 1900 Majorelle marquetry display cabinet is estimated at $ 10,000-15,000. This magnificently constructed piece features a rectangular cabinet with a central floral marquetry panel door, an interior fitted with two plate glass shelves, and three shaped molded rosewood fixed shelves. And collectors will want to feather their nests with lot #2201, a remarkable set of Galle marquetry nesting tables, estimated at $6,000-8,000, each constructed from bird's eye and figured maple wood; signed "Galle," with each signature wrapped around a flower stalk; and is inlaid with aquatic and lakeside landscapes.
Lighting by Duffner & Kimberly has quite a following, and is featured on the second day of this auction event. Bidders may drop to the ground over lot #2318, an extraordinarily rare Duffner & Kimberly wisteria floor lamp. This remarkable 70" example, estimated at $50,000-70,000, features a cast bronze base, a six socket cluster, and a 25" diameter glass wisteria shade blooming with mottled and striated blue and white wisteria flowers and shaded green and amber leaves.
Julia's Fine Jewelry, Lamps, and Glass division is an internationally recognized leader in fine European glass, including art glass, cameo glass, pate de verre, and this sale's offerings will not disappoint. Many of the finest selections on offer in these categories come from a private and unreserved Texas collection, the unreserved Dr. & Mrs. Brian Bojesen collection, and the unreserved estate of the late David Barnett.
Several selections of Austrian art glass from Loetz deserve special mention. Lot #2252, a Phaenomen 358 vase (estimated at $7,500-10,000) and lot #2253, a Phaenomen 358 candlestick (estimated at $7,000-10,000) are both decorated in the "black bottom" style with iridescent freeform bands encircling the pieces. Also eye-catching in this grouping is lot #2258, a 7" silver overlay vase, estimated at $4,000-6,000. This petite treat is in the Medici pattern and is decorated with iridescent elongated oil spots; strong flashes of purple, green and blue; and a silver overlay of flowing Art Nouveau style flowers, stems and leaves.
It's easy to say "oui" to this event's gorgeous selections of French cameo glass. There will be a storm of interest in lot #2340, a rare Daum Nancy rain scene lamp from an unreserved Texas collection, estimated at $10,000-15,000. This frosted background cameo lamp is decorated with a desirable rain scene and enameled barren trees on its shade and base. And lot #2344, Daum Nancy wheel-carved cameo poppy vase, bursts to life with green cameo leaves, stems and buds; intricately wheel-carved purple and orange poppy flowers; and an acid-textured background of richly mottled purple, yellow and lavender. This bouquet of color is estimated at $3,000-5,000.
This sales event features two additional Daum Nancy masterpieces of interest. The first is lot #2469, a padded and wheel carved morning glory vase decorated with green vitrified glass leaves, stems and flowers; a mottled pink and purple background; and padded and wheel carved white flowers and buds. This remarkable piece, requiring extraordinary time, labor, and skill to manufacturer, is estimated at $7,000-10,000. And the second is lot #2482, an incredible Daum winter scene lamp, estimated at $ 18,000-22,000. This incredible example would warm any room with its cameo and enameled matching shade and base featuring barren trees rising from the snow covered ground.
The glass is more than half full when it comes to this sale's remarkable selections of rare and noteworthy Galle glassware. Lot #2420, a mold-blown vase from the unreserved Bojesen collection, is sure to whet collector's appetites with its shaded blue and purple plums surrounded by brown and purple leaves on a shaded yellow and cream frosted ground. It is estimated at $6,000-9,000. Lot #2554, a scarce cameo penguin vase with purple and white cameo penguins and shaded white and blue icebergs on a frosted blue ground, is estimated at $20,000-30,000. And lot #2553, a monumental four color cameo lamp with purple and periwinkle flowers and light green stems on a frosted cream ground, is estimated at 50,000-75,000.
Day two of this sale rounds out with other French glass highlights, including lot #2451, a Leveille internally decorated vase (estimated at $ 5,000-6,000); some delightful pate de verre selections, including lot #2461, a G. Argy Rousseau poppies vase (estimated at $10,000-12,000); and lot # 2398, a Lalique green Courlis vase, estimated at $1,000-1,500.
According to Department Head Mike Fredericks, "This is the most comprehensive Lamps, Glass, and Fine Jewelery auction Julia's has hosted in memory, second to none. Additionally, it is always exciting to add a new category, like our Art Nouveau furniture, to a sale. I am particularly pleased with this sale's astonishing array of unreserved collections that include examples of fine jewelry, silver, antique lighting, and French cameo. With hundreds of quality items offered without reserve, collectors from all over the world should be able to find many treasures, and even some bargains, during this two day sales event."
About James D. Julia, Inc.:
James D. Julia, Inc., one of the top ten antique auction antique houses in North America, is headquartered in Fairfield, Maine. The company also has an office in Boston, Massachusetts. In business for over 45 years, the company conducts high-end antique, collectible, and decorative arts auctions throughout the year. Julia's has routinely established new world records through its sales events. The company consists of three key divisions, including rare firearms and militaria; fine and Asian art and antiques; and lamps, glass and fine jewelry. Each division is regarded for its excellence and is staffed with world-class specialists to ensure fair and professional authentication, identification, and valuation services. For more information on James D. Julia, Inc., please visit http://www.jamesdjulia.com.