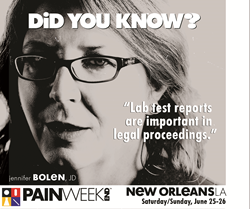 "Fresh ideas – speakers excellent – best heard in many years."
Montclair, NJ (PRWEB) June 02, 2016
Now in its 6th year, the PAINWeekEnd regional conferences are a huge success. Attendees are saying, ""Fresh ideas – speakers excellent – best heard in many years."
On June 25 and 26, PAINWeekEnd New Orleans, at the Hilton New Orleans Riverside, 2 Poydras Street, will provide busy clinicians and allied healthcare practitioners with relevant, practical instruction in the management of chronic pain.
The release of the new CDC Guidelines for Prescribing Opioids for Chronic Pain continues to engender debate among practitioners. Pain is a complex and fragmented area of clinical medicine, and the courses presented at PAINWeekEnd will touch upon these and other timely issues, such as chronic pain assessment; medical marijuana in the treatment of central nervous system disorders; the role of mid-level primary care providers in chronic pain; when does acute pain become chronic?; small fiber neuropathies; patient centered urine drug testing; the five coping skills every chronic pain patient needs; and courses entitled "Fire the Molecule, Not the Patient! Addressing Irresponsible Prescribing Through Universal Precautions," "Embrace 2016 Practice Changes and Patient Education: Overview of Critical Pain Management Practice Issues," "Ain't Misbehavin': Decreasing and Managing Medications Aberrant Behavior," "Evidence Based Approaches to Chronic Pain Management: Time to Reconsider the Benefit of Technophilism," and "Get Your Specimens in Order: The Impact of Changes to the Clinical Laboratory Fee Schedule and Payor Policies on Medical Record Documentation."
In addition, there will be commercially supported activities addressing a range of product, disease state, and medical information topics.
By attending this PAINWeekEnd, participants can earn credit hours towards Louisiana's relicensing requirements: 20 AMA PRA 1 CME hours every year. To see the complete agenda and more information about this or other PAINWeekEnd Regional Conferences, go to painweekend.org.
The online registration fee for PAINWeekEnd New Orleans is $199. PAINWeekEnd registrants are further offered the opportunity to register for the 2016 PAINWeek National Conference, September 6-10, in Las Vegas, for $199 off the current online published price. Go to http://conference.painweek.org/attendees/schedule to view the conference agenda.
PAINWeekEnd is provided by Global Education Group.