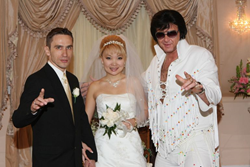 San Francisco, Calif. (PRWEB) June 01, 2016
Planning is well underway for the summer travel season and the team at Viator, a TripAdvisor company and the leading resource for tours and activities worldwide, is highlighting some of the most popular and some of the most interesting travel experiences available on the Viator Tours & Activities App. With speed and simplicity, travelers are booking skip the line experiences, access to iconic attractions and even robot cabaret, while others are opting for fighter pilot training and impromptu weddings – all with just a few swipes of a smartphone and in most cases, at the last minute.
The Most Popular
Viator's iOS and Android users share a predictable affinity for jumping the queue, especially in Rome with Skip the Line Vatican, Sistine Chapel and Colosseum tours among the top 10 most popular activities booked via the Viator app for travel in 2016. Representing a blend of iconic, special access and self-directed exploration, Moulin Rouge in Paris, a Grand Canyon and Hoover Dam day trip from Las Vegas and Hop on Hop off Sightseeing in Rome are also among mobile-travelers' favorites. Other standouts for iOS users include a trip to Stonehenge and Bath, Tuscany in One Day, Tokyo Robot Cabaret and a Mt. Fuji Bullet Train excursion from Tokyo. Android users round out their top 10 favorite things to book on the App with Burj Khalifa "At the Top" tickets, a tour of Murano and Torcello from Venice, a Hop on Hop off tour of San Francisco and the popular New York City Explorer Pass.
The Most Unexpected
While much of what's popular represents some of the world's most iconic attractions, Viator travelers have also booked a vast selection of somewhat surprising travel experiences through the App. Feel like getting married in Las Vegas and you'd like Elvis to officiate? Well, don't get "all shook up," just book it on Viator with the Elvis Wedding at Graceland Wedding Chapel. For anyone interested in something equally thrilling but wants a touch of high-G maneuvering added in, there's the Top Gun and Air Combat Experience in San Diego. For anyone who's dreamt of driving a fancy Italian sports car, picture yourself at the wheel taking a spin through the French Riviera's glamorous capital during the Ferrari Sports Car Experience from Nice. For ultimate adventure-traveller bragging rights, swipe the app and book the Iztaccihuatl Volcano Hiking Tour from Mexico City. Combine the iconic and the unexpected with en exploration of UNESCO World Heritage sites with special access and swipe to book the Viator VIP: Beijing's Forbidden City with Special Viewing of Treasure Gallery and the Great Wall Ruins at Badaling.
The App
The free Viator Tours & Activities App (iOS and Android) provides convenient and easy 24/7 access to the best things to do in any destination with secure booking. With over 40,000 travel experiences and attractions in more than 2,000 worldwide destinations the app also features more than 1 million customer reviews and photos, hundreds of exclusive insider videos, maps, tips and expert recommendations. Upping the convenience factor, the App provides real-time booking and last-minute availability, enhanced checkout including photo-scan for credit cards and instant confirmations, e-vouchers and direct entry ticketing.
For more information about the Viator Tours & Activities App, as well as the latest deals, promotions, contests and news, visit http://www.viator.com or follow Viator on Facebook (ViatorTours) and Twitter (ViatorTravel).
About Viator
Viator, a TripAdvisor company, is the leading global tours and activities provider for travelers, delivering online and mobile access to thousands of trip activities including tours, attractions, shore excursions and private guides, in more than 2,000 destinations worldwide. In-house travel experts work with trusted local operators to ensure the quality and value of every experience, all backed by Viator's 24/7 customer service and global low-price guarantee. With more than 1 million verified reviews plus exclusive videos and insider travel tips, Viator has everything a traveler needs to find and book the best things to do. In addition to the flagship site – Viator.com – travelers can book in advance or in-destination via the Viator Tours and Activities App, as well as local-language sites for European, Latin American and Asian travelers. Viator also provides tours and activities to more than 3,000 affiliate partners including some of the world's top airlines, hotels and online travel agencies. Viator is headquartered in San Francisco with regional offices in Sydney, London and Las Vegas. Viator – travel with an insider.