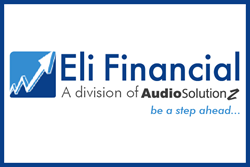 The CFPB has stated that one of its primary examination and enforcement targets this year will be compliance with the restrictions on mortgage loan originator compensation
Durham, NC (PRWEB) June 01, 2016
Eli Financial, a division of AudioSolutionz, is an information and training destination for taxation, banking and other financial professionals. The company provides latest updates, information and guidance on industry hot topics through expert-led webinars, publications, DVDs and conferences. In 2016, Eli Financial have lined up some highly informative events on trending banking and taxation topics, including IRS appeals, criminal tax investigations, HMDA rules, ACA tax planning, Form 706, new CFPB regulations and more.
On Thu, June 23, 2016, expert speaker Kris D. Kully, a partner in Mayer Brown's Washington DC office and a member of the Consumer Financial Services group, will present a Live Webinar titled "Mortgage Loan Originator Compensation: CFPB's Targets and Lingering Questions" to help understand the enforcement agenda of the CFPB in 2016 while providing some concrete answers to the confusion surrounding mortgage loan officer compensation.
In December last year the Consumer Financial Protection Bureau's (CFPB) deputy assistant director for originations, Calvin Hagins, spoke about four contentious areas that examiners will target in 2016. At a mortgage conference in California, Hagins speculated how CFPB examiners will "zero-in" at loan originator compensation plans, Real Estate Settlement Procedure Act (RESPA) integrated disclosure requirements, and compliance with ability-to-repay rules. He also mentioned the scrutiny expected on the structure of marketing services agreements.
Loan officer compensation has long been a bone of contention in the mortgage industry, especially with lenders complaining about paying illegal money to loan originators. Last year, a few mortgage banks have been penalized with steep fines for allegedly paying bonuses and higher commissions to loan originators with the intention to steer consumers into higher-cost mortgages. It's illegal to pay mortgage brokers and loan officers based on the terms of the loan to trick consumers to take out a loan with a higher rate of interest or higher fees.
The CFPB is also strict about the fact that lenders should verify the borrower's ability to repay their mortgages. The bureau is looking at the implementation of the ability-to-repay rule based on eight checklist factors, which includes credit history, debt obligations, employment status, income and assets among others.
Since Loan Originator Compensation compliance is one of the primary examination and enforcement targets in 2016 for the CFPB, this Live Webinar by EliFinancial will provide needed knowledge and guidance in order to comply with these complex and challenging regulations. While some regulatory principles that seemed clear at first look cloudy again and many lingering questions abound, it is important that financial and banking professional attend this event to get a better understanding of these new rules and enforcement strategies of the bureau. For More Information visit - https://www.elifinancial.com/banking/mortgage-loan-originator-compensation
About Eli Financial
Eli Financial, a division of AudioSolutionz, is a training and information company to finance and taxation industry professionals through webinars, publications, newsletters, DVDs and other information and training materials. Taxation and banking webinars by Eli Financial focus on the latest industry regulations according to the CFPB, IRS, HMDA, RESPA and other regulatory authorities and legislations. Professionals can attend these banking and taxation webinars in the comfort of their homes or office and earn valuable IRS and NASBA recertification and continuing education credits in the process. Eli Financial focuses on providing intelligent analysis and practical guidance rather than simply reporting or informing industry professionals.
For more information visit: https://www.elifinancial.com/banking