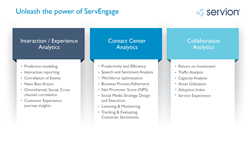 San Jose, CA, (PRWEB) June 03, 2016
Servion Global Solutions today announced that it will be launching ServEngage at Avaya Engage 2016 – an annual conference for the global Avaya customer community – to be held from June 5 to June 9, at the Disney Swan & Dolphin Resort in Orlando, Florida.
ServEngage is an Agile Digital Platform that drives Omni-channel success for enterprises by delivering transformational customer journeys in real-time. It integrates critical data from disparate channels to provide a 360-degree Omni-channel view of customer interactions. Harnessing prescriptive, predictive and heuristic analytics, it is a powerful solution that helps deliver dynamic Next Best Actions to ensure effortless customer engagement.
ServEngage integrates with Contact Centers operations to substantially improve agent productivity and improve business process management. It provides agents with crucial information to drive actionable interactions such as contextual offers and timely promotions with customers, irrespective of how they choose to reach out.
"ServEngage enables enterprises to close the loop from diagnostics to action – leveraging customer journey analytics to power Next Best Actions at the time of interaction. Processing billions of transactions from a gamut of data sources, both internal and external, our innovative platform uses behavioral modeling to revolutionize the way customer engagement is managed for enhancing lifetime value of customers. Our offerings include consulting services, managed services, product and engineering services, and professional services, which can give enterprises the power of a full-fledged Digital Customer Experience. We are particularly excited about announcing ServEngage at Avaya Engage 2016 - having partnered with Avaya and its partner ecosystem for over two decades," said Ashish Koul, Senior Vice President and Head of Servion Americas.
Avaya Engage 2016 is the annual conference of the International Avaya Users Group. With the technology landscape going through paradigm shifts, it is all set to be an elite gathering of Avaya vendors and customers to discuss the future of customer experience.
Arrow Systems Integration, a Unified Business Communications Solutions provider, will be co-hosting a night of live music on June 8, 2016 as part of the post-event Red Carpet celebrations, with Servion Global Solutions.
Servion will be launching ServEngage at booth number 1410 on June 6, 2016.