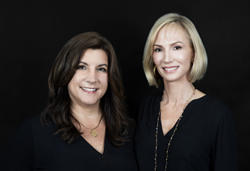 (PRWEB) June 03, 2016
The Kolter Group, a Palm Beach County-based diversified real estate development company with investments valued in excess of $12 billion, announced the opening of the sales gallery for The Mark Sarasota, a comprehensive residential offering that combines luxury residences, executive office suites and opportunities for upscale shopping and dining.
Sarasota-based Michael Saunders & Company is the exclusive sales agent for The Mark. Two of the company's top associates have been appointed to The Mark: Georgia Kopelousos and Lisa Rooks Morris. Both agents have extensive knowledge of the luxury residential real estate market and worked together at the nearly sold out VUE Sarasota Bay. At The Mark they have already taken more than $33 million in reservations. Pre-construction pricing starts from the $700,000s up to $2 million, and groundbreaking is expected later this summer.
Kopelousos has 15 years of experience in luxury residential real estate. She earned a bachelor's degree from Clemson University. Rooks Morris has been selling some of Sarasota's finest properties for more than 12 years and comes from a family of Sarasota business owners, developers, investors and real estate brokers. She holds a bachelor's degree from the University of North Carolina and a master's degree from Loyola University in Chicago, Ill.
"It was a natural decision to continue with these two outstanding individuals who have a deep understanding of the unique Sarasota culture and lifestyle to present The Mark's many amenities to potential buyers," added Michael Saunders, founder and CEO of Michael Saunders & Company.
"Our first Sarasota investment, VUE Sarasota Bay, a $200 million hotel and condominium residences development, is nearly sold out in less than 18 months, which demonstrates Michael Saunders' expertise to capitalize on this market's desire for well-amenitized urban lifestyle choices," stated Bob Vail, president of The Kolter Group's Kolter Urban division. "With The Mark, we have added retail and office space for those who want to live, work, walk and play in a dynamic urban setting, but who also want to revel in the luxury of their private residence."
The Mark, located just south of Main Street on the corner of Pineapple Avenue and State Street, capitalizes on downtown Sarasota's renaissance with an iconic contemporary architectural design. The 12-level luxury condominium tower will feature 157 residences above 35,000 square feet of retail space and 11,000 square feet of executive offices.
With a Redfin walkability score of 96, The Mark provides easy access to its unique Promenade, a sophisticated streetscape offering opportunities for upscale ground level shopping and dining close to Sarasota's vibrant arts and entertainment district.
The Mark top levels offer 13 penthouse condominiums ranging from 2,139 square feet to 2,960 square feet. Each of the 39 floorplans boasts 10' or 11' ceilings and sliding glass doors that open to expansive terraces and elevated city views. State-of-the-art amenities include an elevated resort-style pool on the fifth level amenity deck surrounded by inviting entertainment areas, a fire pit with lounge seating and outdoor cooking, a Resident's Club Room, a fitness center, concierge services and more.
KAST Construction Company, based in West Palm Beach, is the general contractor for the The Mark as well as several other Kolter developments including VUE Sarasota Bay, ONE St. Petersburg, Water Club Snell Isle and Water Club North Palm Beach.
About Kolter
The Kolter Group is a diversified real estate development and investment firm that has invested in projects with expected value in excess of $12 billion. Headquartered in Palm Beach County, Florida and with a southeast operational footprint, Kolter's market and sector knowledge has positioned the firm to capitalize on emerging trends in real estate. For more information, visit http://www.TheKolterGroup.com.
About Michael Saunders & Company
Headquartered in Sarasota, Michael Saunders & Company has grown into the largest-selling brokerage throughout southwest Florida. Locally focused and independently owned, the company is ranked 47th among the 500 largest U.S. brokerages in dollar volume sales; and is listed as one of the country's 35 most influential Realtors in luxury real estate.
About KAST
KAST Construction Company headquartered in West Palm Beach, Florida, has been named the General Contractor for the The Mark. KAST was founded in 1998 and offers a full spectrum of construction services including design-build, pre-construction and construction services. KAST's management team's expertise and financial strength has enabled the company to deliver more than $2.5 billion in completed projects since 2008. KAST continues to expand market sectors to include office and residential, high-rise, multifamily, retail, hospitality, senior living, educational facilities, municipal facilities, arts and science, healthcare and country clubs. For more information, visit http://www.KASTBuild.com
# # #