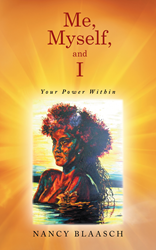 We don't always have all the answers, but if we learn to love ourselves then we can experience life in a positive way
PERTH, Australia (PRWEB) June 02, 2016
According to Harvard Health Publications, the practice of meditation is beneficial for increasing individuals' self-acceptance, as it can help lower the brain's emotional response to anxiety and distress.
Nancy Blaasch, a reiki master and spiritual medium for more than 10 years, has personally witnessed the health benefits of meditation. She is the founder of Guided Goddess, which offers meditation classes and workshops centered on self-improvement. In her new book, "Me, Myself, and I," Blaasch focuses on meditation as well as a variety of other methods that aim to enhance individuals' mindset.
"In my classes, I realized that so many people were confused about basic spiritual techniques and awareness," Blaasch said. "I want to offer simple, helpful guidance that everyone is seeking in their lives."
By sharing her techniques, Blaasch seeks to improve readers' mind-body connection in their day-to-day routine.
"Life is full of twists and turns," Blaasch said. "We don't always have all the answers, but if we learn to love ourselves then we can experience life in a positive way."
For more information, visit goddessglobal.com and guidedgoddess.com.
Me, Myself, and I
By Nancy Blaasch
ISBN: 978-1-4525-3139-7
Available in softcover, hardcover, e-book
Available on Amazon and Barnes & Noble
About the author
Nancy Blaasch is the founder of Guided Goddess. During her career as a reiki master and spiritual medium, she has led numerous workshops focused on increasing individuals' self-worth. She resides in Perth.
# # #
For review copies or interview requests, contact:
Brandon Kors
317.602.7137
bkors(at)bohlsengroup(dot)com