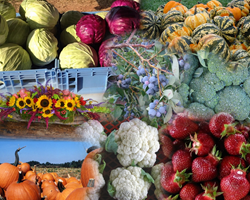 Frederick, MD (PRWEB) June 03, 2016
Frederick County is known for its diversified agriculture ranging from dairy and livestock, to grain and fruits, to vegetables and wine. As the days get longer and the temperature rises, the availability of locally grown food becomes more abundant. The farmers markets feature a variety of products from produce to baked goods to plants.
Frederick County Office of Economic Development compiled a Farmers' Market Study and found that farmers markets have an impact of over $2.7 million dollars to the local economy. Buying from a farmers' market in Frederick County stretches your dollar further than one could imagine. Buying directly from farmers provides fresh, healthy produce, keeps food dollars close to home all while supporting a local family farm.
Below is a list of Frederick County markets. For specific hours and more go to http://www.homegrownfrederick.com/farmers-markets.

Emmitsburg Farmers' Market
Everedy Square & Shab Row Farmers' Market
Brunswick Farmers Market
Frederick City Market
Linganore Farmers and Artisans Market
YMCA of Frederick County Farmers Market
Walkersville Farmers Market
The Great Frederick Fair Farmers' Market
Grace Farmers Market
Middletown Farmers' Market
West Frederick Farmers' Market
Farmers' Market at NCI Frederick
Thurmont Main Street Farmers' Market
Urbana Library Farmers' Market
Don't have enough time to make it to a Farmers' Market? Purchase a share in a Community Supported Agriculture (CSA) in the area, and pick up the farm products directly from the farmer. To find a list of some of the farms in Frederick County that offers CSA's, pick up a copy of the Homegrown Frederick Magazine or get an electronic version at: https://issuu.com/diversionspub/docs/homegrown_2015.
Homegrown Frederick is designed to help citizens find local Frederick County farms that offer locally grown products as well as agri-tourism activities along with promoting the Family Festival @ the Farm and the Farmers' Markets in the county.