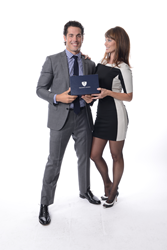 Perhaps dad loves to grill (or perhaps he gets stuck with the task), but giving him a grill motif tie says, "I have no idea what your interests are, but expect you to keep making us burgers. And… you have bad taste."
WASHINGTON, DC (PRWEB) June 01, 2016
Grooming Lounge, the nation's premier resource for men's grooming, recently surveyed dads at their upscale men's barbershops/spas to detail some of the worst Father's Day presents they've ever received -- and to conversely offer sage advice to help families pick out less-offensive and more-thoughtful gifts for dad.
The Worst Gifts:

The Situation Workout Video – This actually exists (think MTV's Jersey Shore) and someone saw fit to wrap it and present it on Father's Day to a guest in our DC store. Not cool "bro."
Goatee Shaver – There's good reason this tool is not found on GroomingLounge.com -- as it's kind of ridiculous and the facial shapes it promotes probably aren't best for Pops.
Waistband Stretcher – A dad that frequents the DC store told us that after joking with his kids about his growing beer belly, they surprised him with this insulting "gift."
Singing Fish - A dad who is an avid fisherman and regular guest in our Virginia store tells us the most annoying thing about the gift was finding a place to hang it where he didn't have to hear it.
Grill Motif Tie - Perhaps dad loves to grill (or perhaps he gets stuck with the task), but this gift says, "I have no idea what your interests are, but expect you to keep making us burgers. And… you have bad 'taste'."
Over and over, guests shared stories about receiving chintzy gifts for Father's Day, while for Mother's Day, spa packages and expensive perfumes are the norm.
"Hopefully, our list of 'clunker gifts' and gift recommendations can help some families give dad a gift that will relax, refresh and boost his confidence rather than insult him," said Grooming Lounge Founder, Mike Gilman.
Here are the top 3 gift suggestions from the experts at Grooming Lounge to surprise and delight dad on the day we acknowledge his sacrifices for the family.
Grooming Lounge Gift Suggestions:

Build-A-Shave Set (Double-Edge/Safety Razor) – Men are increasingly attracted to the close shave and classic appeal of the safety razor. Grooming Lounge's customizable Build-A-Shave Set will help dad start every day a bit more smooth and refreshed.
The Ultimate Beard Maintenance Kit – For the hipster or bearded patriarch, this do-it-all beard kit contains the best beard products for proper facial hair growth and maintenance.
Molton Brown Re-Charge Black Pepper EDT - Warm and spicy fragrance is certain to be a hit with Pops and anyone else standing close to him. More pepper please.
###
About Grooming Lounge
Grooming Lounge is the country's premier destination for upscale men's grooming products, services and advice. Open 24/7 worldwide at http://www.groominglounge.com, the company also has iconic Barbershop & Spa locations for men in Washington, DC and Northern, VA, franchise opportunities open nationwide and its own line of custom-formulated Men's Grooming Solutions.