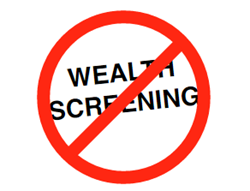 PROscreen is the only prospect screening tool that puts you in control, so you can have confidence in the results.
Charlottetown, PE (PRWEB) June 02, 2016
Wealth screening, as a service to help fundraising departments identify major gift prospects, has been available for a while. In theory it is an excellent idea that still has tremendous value today.
But as fundraising software sophistication has increased, the results of wealth screening have come under scrutiny. Today the term "wealth screening" has become synonymous with expensive, an incomplete picture, too many false positives, and time consuming. Wealth screening is often recommended as the first step in prospect identification, but the reality is, wealth screening technology still largely fails to overcome these impediments.
This belief is why iWave Information Systems decided to ban the word Wealth Screening and launch PROscreen. PROscreen is the only prospect screening tool that puts prospect research and fundraising professionals in control, so they can have confidence in the results. As opposed to wealth screening, it doesn't only focus on capacity to give. PROscreen produces a segmented list of top potential donors that have the capacity to give and are inclined to support a particular cause.
What makes PROscreen unique is the way iWave learned from what was available and then developed a new way. The difference with PROscreen is that it is built on a foundation of customization and transparency that is the first of its kind. Here are a few of the ways it accomplishes that:
PROscore: For every individual screened, not only a baseline capacity rating is generated, but also propensity/inclination and affinity ratings, all of which make up an overall PROscore.
Customization: With PROscreen the user can adjust the weighting of the scores' components, input custom capacity ranges, select which records to include, and select the type of cause to rate the prospect's connection to.
Transparency: Users can't trust results unless you know where they came from. PROscreen is completely transparent in showing how the scores were derived and what records they were based on.
RFM Score: Not only does PROscreen match each individual across PRO's over 800 million records, it also gives users the opportunity to incorporate their own giving data and generate a Recency, Frequency, Monetary (RFM) score for each individual.
Validation: PROscreen results are not delivered and done. Within PRO users can validate, add/delete records, and refresh scores. Then simply export a spreadsheet to be uploaded into their Donor Management System (DMS).
As Donna Moriarty, Manager of Advancement Research at Ryerson University, said, "This is exactly the transparency we're familiar with from iWave. The scores and ratings may not be validated and ready to use, but they're a starting point because they tell us where they came from and let us adjust them."
"The launch of PROscreen is a huge accomplishment for our team at iWave," said Gerry Lawless, CEO. "We saw the void in the market of a screening tool that removed the constraints associated with wealth screening. We're never going to claim to be the 'be all and end all'. We built it to make it easier for users to spend more time on the most important parts of prospect development: verifying, refining, researching, and spending time with the right prospects."