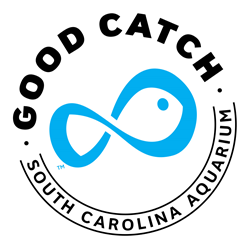 Charleston, S.C. (PRWEB) June 02, 2016
June 2, 2016 — Executive chef and owner of The Granary, Brannon Florie, is a native Charlestonian and will honor the spirit and abundance of his beloved home through food. Florie shares the Aquarium's mission of sustainability, making his stylish restaurant the perfect place to host the next Good Catch dinner. Enjoy a delicious feast featuring locally and sustainably caught seafood on Sunday, June 12. Dinner begins at 6 p.m. and features the Granary's signature charcuterie board as well as cocktail and wine pairings.
Offerings include:

Signature Charcuterie Board- Selection of house-cured meats, sausages, mousse and rillettes, with pickled vegetables, mustard and toast
Mark Marhefka Fish Crudo- Kimchi aioli, cucumber, kohlrabi, pickled peaches, fish sauce, smoked sea salt
Avocado Toast- Pickled local shrimp, king crab, heirloom tomatoes, sweet onions, radish, dill, rye
Lamb and Clams- Leg of lamb, Hiser Sea Farms clams, couscous, golden raisins, beets, carrots, Greek yogurt, harissa
Lemon Parfait- Vanilla cream, graham crackers, pecans
As a Good Catch Partner, The Granary uses their innovative menu that includes southern classics with contemporary twists to showcase local seafood that is harvested sustainably and produced solely in the Lowcountry. By ensuring various species are safe from overfishing, sustainable dining supports local fishing communities that have long been a part of Charleston's vibrant heritage.
South Carolina Aquarium Good Catch manager Shelley Dearhart will be in attendance to educate guests about Good Catch, as well as the best ways to make sustainable seafood choices when dining out and at home. The dinner begins at 6 p.m., and tickets are $65. As seating is limited, call (843) 216-3830 to make your reservation. A portion of proceeds benefit Good Catch at the South Carolina Aquarium.
Fast Facts:

The Good Catch dinner takes place Sunday, June 12, 2016, beginning at 6 p.m. at The Granary located at 624-L Long Point Road, Mount Pleasant, SC 29464
Tickets are $65 and include a house-made charcuterie board as a welcome course and four additional courses with wine/cocktail pairings
A portion of proceeds will be donated to Good Catch at the South Carolina Aquarium
Seating is limited, so call (843) 216-3830 to make a reservation
For all media inquiries, please contact Kate Dittloff at (843) 579-8660 or kdittloff(at)scaquarium(dot)org.
About South Carolina Aquarium Good Catch:
Good Catch generates awareness and leads communities in support of healthy fisheries and consumption of responsibly harvested seafood. The program pragmatically balances the health of the environment with South Carolina's demand for seafood by working with consumers and chefs, helping them make wise seafood choices to support healthy, abundant oceans. More than 115 restaurant partners have committed to serve and purchase sustainable seafood whenever possible and to avoid species that are immediately vulnerable to extinction. As a community, when we choose seafood from local, sustainably managed fisheries or dine at restaurants which do the same, we minimize our impact on the environment. Find the most up-to-date Good Catch partner list and more information on making good seafood choices each season at scaquarium.org/goodcatch.
About The Granary:
The Granary located at 624-L Long Point Road in Mount Pleasant, South Carolina is a true lowcountry gem. The menu is the vision of executive chef and owner Brannon Florie, a Charleston native who was raised with an appreciation for living off the land, and features local and seasonal ingredients to highlight the spirit of the lowcountry's farms and fishing community. The restaurant enjoys a close relationship with local arms and farmers, and all other aspects of food preparation are performed in-house. The Granary captures the true essence of Charleston with its innovative yet classic menu and its family friendly environment.
About the South Carolina Aquarium:
The South Carolina Aquarium, Charleston's most visited attraction, features thousands of amazing aquatic animals from river otters and sharks to loggerhead turtles in more than 60 exhibits representing the rich biodiversity of South Carolina from the mountains to the sea. Dedicated to promoting education and conservation, the Aquarium also presents fabulous views of Charleston harbor and interactive exhibits and programs for visitors of all ages.
The South Carolina Aquarium, a 501(c) (3) not-for-profit organization and is open daily from 9 a.m. to 5 p.m. The Aquarium is closed Thanksgiving Day, half day Dec. 24 (open 9 a.m. to 1 p.m.) and Dec. 25. Admission prices are: Toddlers (2 and under) free; Youth (3-12) $17.95; Adults (13+) $24.95. The Aquarium plus the 4-D Theater experience is free for Toddlers, $22.95 for Children, $29.95 for Adults. The 4-D Theater experience only is $6.95 for Children and Adults, and free for Members. For more information call 843-720-1990 or visit scaquarium.org. Memberships are available by calling 843-577-FISH.
###