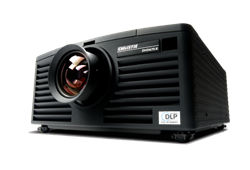 We're very honored to be involved in this important exhibition featuring one of the most celebrated Korean artists in modern times by showcasing his priceless artworks using Christie's advanced projection technology.
Seoul, South Korea (PRWEB) June 03, 2016
Christie® visual solutions is bringing the artworks of legendary Korean painter Lee Jung-Seob to life with digital projections of his masterpieces during a five-month exhibition at the National Museum of Modern and Contemporary Art, Korea from June 3 to October 3, 2016.
Titled "The 100th Anniversary of the Birth of Korean Modern Masters – Lee Jung-Seob," the event pays tribute to the painter, known as Korea's national artist, for his contributions to the introduction of western-style painting in the country. Lee is most famous for his works featuring oxen and family, acclaimed for their artistic and historical value. His masterpieces – created during the nation's turbulent history from Japan's colonial rule of Korea and liberation to the Korean War and after – are highly treasured for symbolizing the indomitable spirit of the Korean people. The paintings also epitomize the artist's strong yearnings for his family and his passionate artistic essence.
Displayed on two canvases illuminated by five Christie E Series 1DLP® projectors, the exhibition is sponsored by Christie Korea with the projectors installed by valued partner IMTEC, which was responsible for several outstanding digital art and performance projects in Korea, such as the groundbreaking 'Deoksugung Project' exhibition in 2012 and 'The Magic Flute' opera performance in 2015. Both events used Christie visual solutions.
Four edge-blended E Series projectors light up the 16-meter wide by 3-meter high first canvas featuring the artist's experimental paintings on the metal foil linings of cigarette packs. Thanks to Christie's high definition display technology, the original 15 cm by 9 cm paintings are bringing out the beauty of these small silver foil drawings.
The 4-meter wide and 3-meter high second canvas is lit by an E Series projector displaying images of art pieces created during the Korean War when Lee spent a year living in a small house with his Japanese wife and two sons in Seogwipo, Jeju Island. The digital artworks displayed include the famous "Illusion of Seogwipo" painting that shows birds and people living in harmony on a warm day, while Korean peaches hang heavy and sweet in the treetops above.
"We're very honored to be involved in this important exhibition featuring one of the most celebrated Korean artists in modern times by showcasing his priceless artworks using Christie's advanced projection technology," said Min-Don Joo, Director, IMTEC. "The Christie E Series projectors have presented Lee Jung-Seob's paintings in such a beautiful and realistic way that we are able to get a glimpse of the life of this artistic genius. I hope that the projected visuals will enhance visitors' appreciation of our national artist's masterpieces and to hold on to the belief of never letting go of hope and innocence, even in hardships."
Henry Khang, General Manager, Christie Korea, added, "At Christie, our mission is to create and share the best experiences with our visual solutions. We are delighted that the Christie E Series, known for its unrivaled value, versatility and superior image quality, has been chosen by our partner IMTEC for this landmark exhibition that commemorates the 100th anniversary of Lee Jung-Seob's birth. In recent years, large venues such as museums and theaters are increasingly relying on visual technologies to showcase precious works of art and performances. We look forward to collaborating with more artists and event venue operators to bring more art forms to life and inspire more people."
With a brightness of up to 7200 lumens, full HD resolution and 5000:1 contrast ratio, the Christie E Series produces images with incredible color and brightness, and is ideal for venues such as museums and auditoriums.
About Christie®
Christie Digital Systems USA, Inc. is a global visual and audio technologies company and is a wholly-owned subsidiary of Ushio, Inc., Japan, (JP:6925). Consistently setting the standards by being the first to market some of the world's most advanced projectors and complete system displays, Christie is recognized as one of the most innovative visual technology companies in the world. From retail displays to Hollywood, mission critical command centres to classrooms and training simulators, Christie display solutions and projectors capture the attention of audiences around the world with dynamic and stunning images. Visit http://www.christiedigital.com.
Follow us:
Twitter.com/christiedigital
Facebook.com/christiedigital
#christiedigital
Christie® is a registered trademark of Christie Digital Systems USA, Inc., registered in the United States of America and certain other countries.
DLP® is a registered trademark of Texas Instruments.