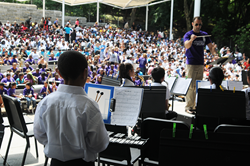 These students, thanks to the dedication of their music teachers, have made a lot of progress since they first picked up their instruments, and we are pleased to celebrate them and their hard work. - ETM Director of Programs Peter Pauliks
New York, NY (PRWEB) June 03, 2016
Education Through Music (ETM) partner schools will host a performance featuring 13 bands and nine orchestras from Manhattan, Queens and Bronx inner-city elementary and middle schools on Tuesday, June 7th (10:00 a.m. to 1:00 p.m.) and Friday, June 10th (10:00 a.m. to 12:00 p.m.) at Lehman College.
Location: Lehman Center for Performing Arts
250 West Bedford Boulevard West
Bronx, NY 10468
For the first time, this year's Festival will occur over two days, illustrating the organization's continued growth. Over 1,000 students will represent their schools' ensembles in a professional performance venue. Students will celebrate their musical achievement, performing alongside their peers for a crowd of school and community supporters.
Featured ensembles on June 7, 2016 and June 10, 2016 include:
June 7, 2016

M.S. 566 Band (Bronx)
P.S. 103 Band (Bronx)
P.S. 68 Junior Orchestra (Bronx)
P.S. 43 Band (Bronx)
P.S. 169 Orchestra (Bronx)
P.S. 355 Band (Bronx)
St. Ann Orchestra (Manhattan)
P.S. 48 Band (Bronx)
P.S. 182 Orchestra (Bronx)
P.S. 154 Band (Queens)
P.S. 87 Orchestra (Bronx)
M.S. 180 Band and Orchestra (Bronx)
June 10, 2016

P.S. 72 Band (Bronx)
P.S. 294 Orchestra (Bronx)
P.S. 179/P.S. 369 Band (Brooklyn)
P.S. 91 Orchestra (Bronx)
P.S. 42 Band (Bronx)
P.S. 68 Senior Orchestra (Bronx)
M.S. 498 Band (Bronx)
M.S. 529 Orchestra (Bronx)
P.S. 76 Band (Bronx)
"We are very excited to celebrate the end of the school year with a performance that showcases our partner school students' outstanding musical achievements," says Director of Programs Peter Pauliks. "These students, thanks to the dedication of their music teachers, have made a lot of progress since they first picked up their instruments, and we are pleased to celebrate them and their hard work."
About Education Through Music
The ETM model currently serves nearly 27,000 students in inner-city schools in New York City, and our model reaches another 10,000 children through the work of our licensed affiliate organization in Los Angeles. ETM's comprehensive, sustainable music education network has garnered the support of corporations, public policy makers and foundations, including The Music Man Foundation, CMA Foundation, The Jerome L. Greene Foundation, Ford Foundation and D'Addario Foundation. For more information visit http://www.ETMonline.org.