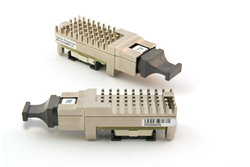 Pointe Claire, Montréal (PRWEB) June 03, 2016
PPOD and SNAP12 are offered in both industrial and commercial operating temperatures (-40 ºC to 85 ºC) at speeds up to 75 Gbps. These modules underwent extensive testing to meet requirements for harsh environments. The Reflex's PPOD and SNAP12 are 100% compatible with the industry standards.
PPOD and SNAP12 are 12 channel parallel optical modules with a standard chassis mount MPO interface. They are self-contained electrical to optical converters requiring no internal fiber management or handling.
Luis Perez, Sales Engineer, says, "Reflex is excited to support customers who want to keep PPOD and SNAP12 as their valuable choice within their existing and future designs. Also, we are fully committed to enhance this product line for higher data rates in both commercial and industrial operating temperatures as we understand that PPOD and SNAP12 optical modules continue to be an option for those commercial, defense and avionic customers looking for rugged and easy-to-use optics."