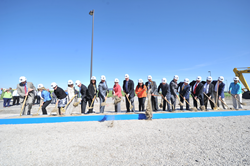 It's going to be beautiful. It's going to be high tech. And we want it to be iconic. We want people driving south on I-215 to say, 'What is that space? I want to be in that space.'
Salt Lake City, Utah (PRWEB) June 01, 2016
Salt Lake Community College broke ground June 1 on its Westpointe Career and Technical Education Center near the Salt Lake City International Airport. The Utah Legislature during its 2016 session approved the $42.9 million needed to begin construction on the new facility, which is expected to open in 2018.
"We've been working on this for five years," said SLCC President Deneece G. Huftalin. "To have us all assembled here to break ground and to watch this new center rise up over the next 18 months or so is just going to be remarkable."
SLCC's new center brings together technical education in multiple trades integral to the long-term economic vitality of the Salt Lake Valley. The 121,000-square-foot building provides space for collaboration with industry partners in multiple fields. "We knew that we needed a better facility, a more nimble facility, a facility that would really teach students in an integrated flexible way," Huftalin added. "It's going to be beautiful. It's going to be high tech. And we want it to be iconic. We want people driving south on I-215 to say, 'What is that space? I want to be in that space.' We want it to be a symbol for career and technical education and the importance of workforce in Salt Lake County. So, we're exited to watch that happen."
The center is intended to support current and future training needs in a flexible, high quality space that will benefit the College and surrounding community for decades. It will establish a high standard of quality and functionality for future development of other facilities and resources vital to Utah's economic future.
Utah Senate President Wayne Niederhauser credited Huftalin and her staff with helping to educate state lawmakers about the need for the new facility. "We had the money this year, but there are many voices out there who want that money," Niederhauser said. "It was easy for us once the Legislature understood the purpose of this building, because this is the future of education, and not only in Utah but in the world. … This is the future for workforce in the state of Utah."
The expansion of Westpointe will benefit traditional students acquiring new skills, incumbent workers enhancing their current skills, transitioning workers reentering the workforce and underemployed workers trying to improve their employability in high-growth areas. Utah Speaker of the House Greg Hughes said investing in the new center represents the need to prevent a shift in the economy. "I'm done with cheap socks and outsourcing everything around the planet," Hughes said to applause. "That's not what the United States is. We have a manufacturing sector. We have workforce. We're not going to become a service-oriented economy. … It's not going to happen and shouldn't happen."
Utah State Senator Luz Escamilla expressed thanks that the center will be built in her district. "I think this is not only an economic development issues, it's really going to change the lives of many, many individuals," Escamilla said. "You will make things happen here. … To me, it's just changing lives for many working, poor families that are looking for a better opportunity." Utah State Rep. Sandra Hollins, who also represents the area where Westpointe is located, thanked Huftalin and SLCC for the new center. "It is part of my community's vision for what we see and what direction we would like to move in," Hollins said. "I want to thank you for your investment in our community and for your vision and for your leadership."
Salt Lake Community College is an accredited, student-focused, comprehensive community college meeting the diverse needs of the Salt Lake community. Home to more than 61,000 students each year, the College is Utah's leading provider of workforce development programs. SLCC is also the largest supplier of transfer students to Utah's four-year institutions and a perennial Top 10 college nationally for total associate degrees awarded. The College is the sole provider of applied technology courses in the Salt Lake area, with multiple locations, an eCampus, and nearly 1,000 continuing education sites located throughout the Salt Lake Valley. Personal attention from an excellent faculty is paramount at the College, which maintains an average class size of 20.