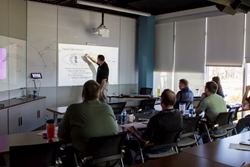 "FlightSafety's endorsement of AeroIT shows that we're aligned in addressing this critical skills deficit in today's flight departments." Jim Jensen, SD founder and CEO
Melbourne, Florida (PRWEB) June 06, 2016
In an expansion of their existing partnership, FlightSafety International now will offer Satcom Direct's AeroIT certification preparation course. AeroIT is the world's first information technology certification for aviation and equips aircraft technicians, maintenance, IT personnel and crew with vital knowledge of today's sophisticated airborne communications systems.
"In-flight connectivity has become one of the most vital functions on the aircraft. We created AeroIT to equip aviation professionals with the IT-based knowledge they need to support these onboard networks and enable the 'office in the sky.' Our partnership with FlightSafety gives additional personnel easy access to this important training," said Jim Jensen, founder and CEO of Satcom Direct (SD). "FlightSafety's endorsement of AeroIT shows that we're aligned in addressing this critical skills deficit in today's flight departments."
The AeroIT prep course and certification exam equip flight departments with the knowledge to configure and troubleshoot onboard networks and SATCOM systems, which both enhances technicians' professional development and supports their organizations' missions. The certification exam is offered at any Pearson VUE test center worldwide and is being expanded for availability onsite at SD's World Headquarters. The AeroIT credential is valid for three years and then must be renewed. Additional levels of certification are in development to validate different levels of mastery.
In collaboration with SD, FlightSafety offers the TTT Cabin Communications and Cabin Management courses in Savannah, GA and Teterboro, NJ for both maintenance technicians and flight crews. AeroIT will initially be offered in Savannah and includes an option for future expansion into other FlightSafety training centers and ultimately will become incorporated into FlightSafety's Avionics and Cabin Master Technician programs. SD will continue to offer AeroIT training at its offices across the globe.
"FlightSafety is pleased with our growing partnership with Satcom Direct. AeroIT gives us a complete cabin connectivity training solution for our customers," said Charlie Harvich, Manager FlightSafety Savannah Maintenance Training Center.
Flight Safety will begin offering AeroIT training, at its Savannah center, in September. FlightSafety customers can use their event-based training package toward the AeroIT course and should consult with FlightSafety for the training schedule. For those wishing to study at their own pace, the AeroIT textbook is available for purchase at http://www.satcomdirect.com/aeroIT.
About Satcom Direct: Satcom Direct (SD) provides global connectivity solutions for business and general aviation, military, government, and heads of state aircraft, as well as operations in areas with connectivity limitations such as remote locations, large scale events, and disaster recovery. SD is a technology innovator. Since 1997, its teams have worked to advance the technology of connectivity, making SD the first in the marketplace to deliver numerous advancements and capabilities. The company is a premier Inmarsat Distribution Partner (including Jet ConneX), Iridium Service Partner, ViaSat's preferred reseller, and the Exclusive Service Provider for SmartSky Networks.
The SD world headquarters and primary operations center is located in Melbourne, Florida, with additional office locations in the United States, Canada, UK, UAE, Switzerland, Hong Kong, Australia, Russia, Brazil, and South Africa. For more information regarding SD, visit http://www.satcomdirect.com, e-mail sales(at)satcomdirect(dot)com, or call U.S. +1.321.777.3000 or UK +44.1252.554.460.
FlightSafety International is the world's premier professional aviation training company and supplier of flight simulators, visual systems and displays to commercial, government and military organizations. The company provides more than a million hours of training each year to pilots, technicians and other aviation professionals from 167 countries and independent territories. FlightSafety operates the world's largest fleet of advanced full flight simulators at Learning Centers and training locations in the United States, Australia, Brazil, Canada, China, France, Japan, the Netherlands, Norway, South Africa, and the United Kingdom. For more information, visit http://www.flightsafety.com.