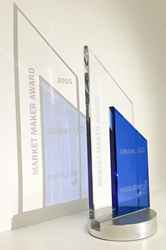 Covington, LA (PRWEB) June 03, 2016
Gilsbar has been honored by WEX Health with a 2015 Partner Excellence Award for outstanding business achievements. Gilsbar was selected for this award because of its efforts in working with WEX Health to reach – and surpass – new heights in the consumer-driven healthcare market. Gilsbar is utilizing innovation and creativity to increase plan adoption and revenue generation.
WEX Health is the nation's largest electronic payment, on-premise, and cloud computing healthcare solution provider. The Excellence Awards, established in 2009, are presented yearly and recognize WEX Health Partners that have achieved extraordinary notable accomplishments. Award recipients were recognized for reaching significant milestones in 2015 across several areas including growth, leadership, innovation, and customer service as well as overall outstanding Partner successes. At last year's conference, Gilsbar was presented with the Trailblazer Award in recognition of being the fastest-growing partner with the highest growth percentage during the January 1, 2015 enrollment period.
Gilsbar received the Excellence Award for Market Maker at Partner Conference 2016, the annual WEX Health Partner conference held recently in Scottsdale, Arizona. Gilsbar is proud to have been selected for this award and for the dedication and hard work it represents for both our sales and account management teams.
###
About Gilsbar, LLC
Established in 1959, Gilsbar, LLC® is one of the largest privately-held insurance services organizations in the country. Recognized as a catalyst for creating healthy businesses, Gilsbar, LLC® offers self-funded and fully-insured benefit plan management services, along with Wellness, Advocacy, and overall Population Health Management. Gilsbar, LLC's integrated delivery model improves the health and well-being of its members, resulting in significant health plan savings for its clients.
Gilsbar, LLC® has been honored by Inc. magazine for its sustained growth, Modern Healthcare and Business Insurance magazines as a Best Place to Work, and WELCOA and the American Heart Association for its proven wellness methodology.
For more information, visit http://www.Gilsbar.com.
About WEX Health
WEX Health simplifies the business of healthcare. They do that through WEX Health Cloud, a cloud-based healthcare financial management platform that drives efficiency for benefit administration technology, consumer engagement, and advanced billing and payments. Their network of partner organizations enables them to deliver industry-leading and award-winning solutions to 200,000 employers and more than 17 million consumers across the United States and Canada. WEX Health takes the complexity out of defined contribution, HSAs, HRAs, FSAs, VEBAs, PRAs, premium billing, public and private health insurance exchanges, COBRA, wellness plans, and transit plans. For more information, visit http://www.wexhealthinc.com.