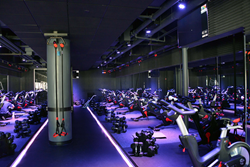 The fitness chain continues to raise the bar on motivating workout sessions and classes, most recently with its installation of Powersoft amplifiers at both its U Street and Metropole locations.
Washington, D.C. (PRWEB) June 01, 2016
Powersoft announces that its amplifiers have been installed last month at two VIDA Fitness locations in Washington D.C. As Americans have less disposable time than ever before due to increasing scheduling demands and work-life balance issues, many are demanding more from their personal workout times. This is one of the dynamics that has led to the explosive growth of Washington D.C.- based VIDA Fitness, which has been in business for the greater part of ten years and boasts six locations in the D.C. metro area. The fitness chain continues to raise the bar on motivating workout sessions and classes, most recently with its installation of Powersoft amplifiers at both its U Street and Metropole locations.
The two projects were specified and supervised by Randy White, Senior Buyer at Chuck Levin's Washington Music Center and installed by Washington, D.C.- based VIBE Solutions, and were completed last month. "This system is powerful enough to be in a nightclub, and is capable of reaching some extreme volumes," says White. The powerful, pristine audio is the perfect complement to a motivating array of LED lights and giant television screens that provide both visual stimulus and environmental ambience.
As VIDA Fitness' largest facility, the U Street location features over 60,000 square feet of workout facilities and dedicated studios. It is also home to the VIDA Penthouse Pool and Lounge, a metro rooftop oasis with striking views and a sumptuous menu to match. Among the jewels of the U Street facility is its dedicated 'Sweatbox' cycling studio, where participants can enjoy their own personal, high-energy audio system that features crystal clear, powerful sound. The audio is driven by an eight channel Powersoft Ottocanali 8K4, which is being used in combination with a two channel K2 amplifier for the subs.
"VIDA is really changing the way people think about exercise, bringing new and innovative ideas that get people out of their homes and into the gym," commented White. "Their strenuous, high-energy classes provide a much more exciting and challenging alternative to sitting at home on a spinner. With the Powersoft amplifiers, the speakers and the lighting, VIDA is creating an atmosphere where there is both stimulus and reward — with great sound, lighting and of course motivating coaches."
At the U Street location, White and his team faced challenges because they only had 10' of ceiling height to work with where the system was to be installed. "The owner didn't want to see the speakers, so we mounted speakers over each bike, firing directly down to each biker," says White. "Besides the (16) speakers over each bike, there were also three subs to support the low end for the rest of the room." Add to this a sophisticated LED lighting system, capable of instantly changing the visual vibe and color of the room at the push of a button.
An On Point Solution with Powersoft
A total of (16) On Point Audio OPA 28 NP bracketed loudspeakers were mounted, each powered by a single Powersoft Ottocanali 8K4 amplifier, capable of pushing 1,000 watts per channel at 4 ohms. The OPA 28 NP is a dual 8" two-way array system that has an 80-degree coverage pattern, providing perfect directionality in a compact and powerful form factor. "The Ottocanali gave me the ability to run a pair of speakers off of each output channel," explains White. "This made everything really simple for installation — if for some reason a channel were to go down, it would be very easy to troubleshoot." White also notes that the Ottocanali saved an enormous amount of space in the equipment closet: "There is so much headroom in that Powersoft unit that we reduced the need for several rack spaces to cover the amplifier requirement."
"This is a building where they didn't have the ability to pull additional power," he continues. "There was just enough power to run the amps, the lights and the bikes. Not only were they able to run the amps for the system off of the existing outlets, they are only running at approximately 20 percent capacity, and there is a miniscule amount of heat dispersion." For subwoofers, White installed three On Point Audio OPA 118s running off of a single Powersoft K2 amplifier. "When you have subs on a really great amplifier, you really don't have to do a lot of work tuning the system," White observes. "With other, cheaper amplifiers, you could have a tech tuning a system for an entire day — and in our business, time is money. So, considering the low power draw and output efficiency, the Powersoft actually ended up saving us money."
VIDA Metropole: Cycling Innovation
VIDA Fitness' Metropole location is a slightly smaller facility than the U Street location, with 25,000 square feet distributed over four floors. At this location, White and his team was called on to handle a more traditional spin cycle installation. "Since the room was a bit smaller, we installed three of the OPA 28 NPs, and put a single OPA 118 in the middle," says White. "To drive the loudspeakers, I ended up using a combination of a Powersoft M14D and an M28Q. I set it up that way because the room wasn't going to be stereo, because of the 'fan' shape of the room. So I set it up as 'left, right, center' mix — and the room sounds really great."
White maintains that the upgrades VIDA Fitness completed — including with the Powersoft amps — puts them at the cutting edge of spin / cycling facilities around the U.S. "This is all an upgrade from other solutions you'd see across the country," he says. "When the light becomes more intense, the high energy music is right there to support the visuals with powerful and clean audio. The systems sound great, and the overall benefit is huge: we've managed to bring new energy efficiency and reduced the need to bring several of these really heavy, monstrous amps we had to use back in the day. It really was the 'perfect storm' and a great opportunity to try using the Powersoft amps."
To learn more about Powersoft M Series please visit http://www.powersoft-audio.com/en/installation/m-series#series