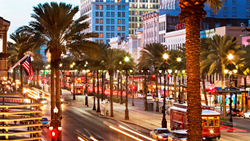 I have presented and/or attended hundreds of conferences and can attest—IBPA conferences are first rate! Frank A. DiLallo, Schools Consultant, Author, Speaker, Toldeo, Ohio
New Orleans, LA (PRWEB) June 03, 2016
Educators, counselors, parents, students and youth advocates from more than 20 countries will gather in historic New Orleans November 6-8, 2016, to not only discuss bullying and school violence, but to also develop strategies and solutions to take back to their schools and communities.
Kicking off the International Bullying Prevention Conference "Getting to the Bottom of It: Bullying Prevention through Empathy and Kindness," will be Michele Borba, Ph.D., an internationally-recognized educational psychologist and parenting, bullying and character expert whose aim is to strengthen children's empathy and resilience, and create safe, compassionate school cultures.
Her keynote, "Empathy: The Forgotten Antidote to Bullying," will inspire participants with new ways to approach youth. "The research is clear. Bullying is learned and can be unlearned," Borba said. "Cultivating empathy is the forgotten antidote for bullying."
Sameer Hinduja, Ph.D., a professor in the School of Criminology and Criminal Justice at Florida Atlantic University and co-director of the Cyberbullying Research Center, will close out the conference with his keynote, "Resilience: Avoiding Victimization Through Social Problem-Solving and Emotional Self-Regulation."
Hinduja is recognized internationally for his groundbreaking work on the subjects of cyberbullying and safe social networking – concerns that have paralleled the exponential growth in online communication by young people.
"As more attention is given to the importance of cultivating socio-emotional learning skills among students, it seems vital to increasingly consider one often-neglected component: resilience," Hinduja said. "As critical as it is to shape and improve the external around a child, it seems equally essential to focus on the internal – the learned ability of youth to personally handle bullying (both offline and online) and other offenses in a way that leads to positive outcomes."
The conference, hosted by the International Bullying Prevention Association (IBPA), will be held at the Sheraton New Orleans Hotel. Sponsors include Facebook, Friends and Crestmark.
"Academic achievement and psychological well-being are linked to positive school climate and a supportive home environment. Thus it is critical for educators and community leaders to stay abreast of the research and strategies that promote a sense of belonging in the school, home and community," said IBPA President Patti Agatston, Ph.D. "Our conference provides these strategies and will enable participants to make a significant impact in their sphere of influence."
The International Bullying Prevention Association's mission is to advance bullying prevention best practices. For more information or to register for the conference, visit http://www.ibpaworld.org.