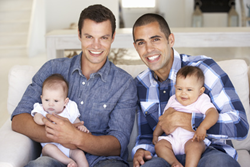 The situation explored on the BBC drama is an increasingly common one worldwide.
Los Angeles, CA (PRWEB) June 07, 2016
An article published May 31 on Birmingham Mail explores the realities of surrogacy brought to light by the hit television drama, In The Club, the BBC Drama tells the story of Andrew and his partner Nathan, who are looking for a suitable surrogate to deliver their future child and finally settle on Shelley, an acquaintance who carries a baby to term for them. Global Fertility Concepts (GFC), an agency devoted to facilitating gestational surrogacy for couples of all genders and orientations, notes that the situation explored on the BBC drama is an increasingly common one worldwide. GFC explains that their services extend a careful, guiding hand during the entire process for intended parents, helping them through the often highly complex legal and medical issues that accompany gestational surrogacy. Based in Los Angeles, but supporting families nationwide and from around the world, the agency notes that it seeks to establish positive and caring relationships with both the surrogate mother and future parents in order to facilitate the entire birthing process. With an intense commitment to making parental dreams come true for those that long to start a family, GFC notes that growing reality of gestational surrogacy in all kinds of families is becoming an increasingly familiar reality, both in fictional media depictions and in real life.
Global Fertility Concepts notes that it could definitely have made life easier for Andrew and Nathan. As a groundbreaking surrogacy agency that eases the journey towards parenthood for both intended parents and their matched surrogates, the agency says that it is driven by the profound importance of patient care. GFC explains that their approach to providing a wide array of specialized concierge services to everyone involved and facilitating open communication has been proven to make the entire process easier for all parties involved, intended parents and surrogates alike. Making sure every question is answered; GFC emphasizes that their empathy and commitment to their clients enables them to provide potential clients with a full understanding of the sometimes overwhelming legalities in the surrogacy process.
Catering to both international and local clients, Global Fertility Concepts notes that it is here to provide in-depth support not only to intended parents, but for women looking to become a surrogate with a full range of services and a highly compassionate and sensitive approach. GFC notes that it is the only agency to feature fertility and OB nurses to facilitate the surrogacy process. They also add that their services include the ability to begin the process of parenthood in their Beverly Hills facilities with a free, in-person consultation or virtually. Global Fertility Concepts notes that it is proud to be able to pave the way for a new approach to surrogacy and fertility services that empowers both intended parents and surrogates. Finding the right surrogate for any would-be parent is only the first step in the journey to starting a family, and GFC notes that it is here to help.
For additional information, readers can call the agency at 800-893-1309 or visit their website at Globalfertilityconcepts.com.