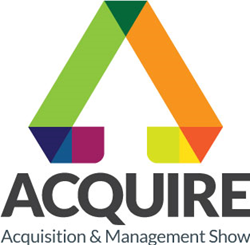 Vienna, VA (PRWEB) June 02, 2016
What: ACQUIRE Conference & Expo | https://acquireshow.com
When: June 8-9, 2016 | 7:00AM – 4:15PM
Where: Walter E. Washington Convention Center | 801 Mt Vernon Pl NW, Washington, DC 20001
Speakers: Keynote Speakers Include:
Former Congresswoman Gabby Giffords & Captain Mark Kelly: A powerful keynote from two of America's most recognized heroes will discuss what it takes to transform a tragedy into an endeavor to succeed.
Joshua Cooper Ramo: Joshua Cooper Ramo is the author of the international bestseller The Age of the Unthinkable and now his latest bestseller, The Seventh Sense, Power, Fortune and Survival in the Age of Networks.
The Seventh Sense is the story of what all of today's successful figures see and feel--forces that are invisible to most of us but explain everything from explosive technological change to uneasy political ripples. The Seventh Sense won't merely change the way you see the world. It will also give you the power to change it, because what we'll need in order to navigate what comes next is not merely specific answers, but a kind of instinct for what life in a connected age looks like.
Ramo Cooper is the co–chief executive officer and vice chairman of Kissinger Associates and a member of the board of directors of FedEx and Starbucks, his clients include some of the largest companies and investors in the world.
Speakers from Following Government Agencies:
OPM
GSA
Department of Defense
DHS
NASA SEWP
NIH-NITAAC
Federal Bureau of Investigation
U.S Marine Corps
U.S Navy
Office of Federal Procurement Policy
FEMA
Social Security Administration
Details: ACQUIRE is a free two-day conference & EXPO that aims to help government agencies create, manage and run successful programs. The conference program offers federal agency-led training sessions, government & industry thought leadership panels and visionary keynotes. Conference tracks cover IT, Project Management and Professional Services to Acquisition, Talent and Office Management.
Media Contact: Carmel McDonagh, Chief Marketing Officer | cmcdonagh(at)1105media(dot)com | 703.876.5040
###