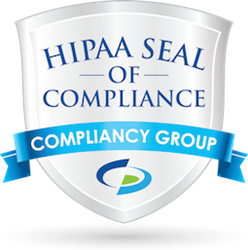 "The Guard is like QuickBooks for HIPAA compliance."
Huntington, NY (PRWEB) June 02, 2016
Compliancy Group is proud to announce that it has been chosen as the total HIPAA compliance solution for Optometric Medical Solutions (OMS), based out of San Antonio Texas.
Jerry Godwin, President of OMS, spoke to Compliancy Group about his team's search for a total HIPAA compliance solution. "The Guard is like QuickBooks for HIPAA compliance." Godwin continued, "It's a simple, total compliance solution that takes the heavy lifting out of managing updates and add-ons to federal regulation, all from a single, web-based platform that can be accessed anywhere you have internet access."
For Jerry, finding a means of Achieving, Illustrating, and Maintaining OMS's HIPAA compliance was only one piece of the puzzle. OMS needed to effectively market their own HIPAA compliance because under federal HIPAA regulation Business Associates such as practice managers, lawyers, and billing services are beholden to the same requirements as doctors and other Covered Entities. OMS chose to package The Guard alongside their existing services, giving their clients the ability to incorporate a total HIPAA compliance solution into the rest of the credentialing, insurance verification, Revenue Cycle Management (claims management), practice consulting, and training services that they offer.
Click here to read the full OMS case study and find out more about how The Guard simplified HIPAA compliance for Jerry and his team.
"The Guard provides the system, the expertise, and the tracking to guide us through implementing an effective HIPAA compliance program," added Godwin. The Guard empowers users in the same way that bookkeeping and tax software does, giving them the tool to understand their HIPAA compliance through controlled self-audits. And with Compliancy Group's team of expert compliance coaches guiding users through every step of their implementation, becoming HIPAA compliant has never been simpler.
Compliancy Group LLC allows anyone to simplify the growing challenges of HIPAA compliance, whether they are an experienced health care professional with compliance expertise or a front desk manager without any formal training. The Guard is our simple, cost-effective, web-based solution that can help any organization regulate and monitor all aspects of their HIPAA compliance throughout their entire practice. With Compliancy Group, you'll be guided by our team of expert Compliance Coaches to Achieve, Illustrate, and Maintain compliance with confidence under the full spectrum of the HIPAA and HITECH regulation.