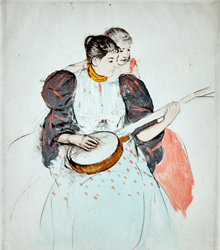 San Diego, Calif. (PRWEB) June 02, 2016
The Hoehn Family Galleries at the University of San Diego will host two exhibitions from July 8 through September 2, 2016. American Art from a Pacific Northwest Collection 1860-1915, is a unique display bringing together more than 20 extraordinary works by American painters, sculptors and printmakers from a renowned private collection in the Pacific Northwest and on view in San Diego for the first time. The second exhibition, Ruth Eckstein: Topographies, will present the graphic work of Ruth Eckstein (1916-2011), an artist who explores the possibilities of printmaking as a vehicle for formal experimentation.
American Art from a Pacific Northwest Collection 1860-1915 features works from the Hudson River School to American Impressionism, providing a strong overview of artistic practice in the United States from the Civil War to the turn of the last century. This presentation, which is split between the Timken Museum of Art in Balboa Park and the University Galleries on the campus of the University of San Diego, will include major works by Mary Cassatt, Winslow Homer, John La Farge, John Frederick Kensett and Frederic Remington, to name only a few.
Some of these 19th century masterworks relate closely to representations that are familiar—for example, a brilliant example of John Frederick Peto's trompe l'oeil ("fool the eye") painting practice can be compared to a still life by the artist that is always on view at the Timken—but none of the objects in the exhibition have ever been seen in San Diego before. This project is the first in a series of planned collaborations between the Timken Museum of Art and USD's University Galleries.
Ruth Eckstein's elegant and refined abstractions suggest landscapes and evoke the look and feel of different topographies or careful arrangements of land, sea, and sky. Eckstein's evocative combinations of processes and materials offer an array of haptic pleasures—textures, layers, and levels—that suggest an experience of the places encountered in her travels as well as her engagement with developments in 20th century art and eastern philosophy.
Eckstein, who fled the Nazis and her native Germany, immigrated first to Paris and finally to New York in 1939. Her life and work intersected with a number of figures and groups that would come to define postwar American art including Hans Hoffman and long-time San Diego artist Harry Sternberg. Her prints are represented in major public collections in Europe and the U.S. including the British Museum, the Library of Congress, the Metropolitan Museum, the Museum of Modern Art, New York Public Library, the Philadelphia Museum of Art, the Walker Art Center, the Whitney, and Harvard University Art Museums.
Both exhibitions are open to the public during regular gallery hours, which are Monday through Friday noon to 5 p.m. and Thursdays noon to 6 p.m. All exhibitions and related programs are free. Parking at USD is also free, but you must receive a parking permit from the kiosk located at USD's two main entrances.
About the Hoehn Family Galleries
The Hoehn Family Galleries is located at Founders Hall 102 at University of San Diego, 5998 Alcaia Park, San Diego, Calif., 92110. For general information, call 619-260-7516, or visit http://www.sandiego.edu/galleries/.
The fine art exhibition program at USD traces its origins back to the 1980s, when Professor Therese Truitt Whitcomb began organizing installations with the help of her students in a converted classroom space near the front entrance to Founders Hall. Over the course of the next 25 years, more than 100 exhibitions were mounted in Founders Gallery until it was expanded, professionalized and re-named the Hoehn Family Galleries in 2002, thanks to a generous gift from Robert and Karen Hoehn, long-time supporters of the Arts at USD. The Hoehn Family Galleries now function as a primary place for exhibiting fine art prints regularly during the academic year. Exhibitions held have included shows of loaned work from global institutions, as well as works from University Galleries' own impressive and extensive print collection.