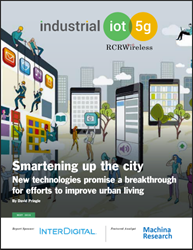 New low-cost, low-power, wide area networks could make it much easier to retrofit cutting edge technology into centuries-old urban environments.
Austin, Texas (PRWEB) June 07, 2016
The idea of a smart city has been around for decades, but most municipalities have struggled to turn this tantalizing concept into a reality. Now advances in both computing and connectivity could finally usher in an era of hyper-connected urban infrastructure, according to a new report by RCR Wireless News.
More and more cities around the world are testing how ICT can keep the traffic moving; detect and prevent crime; monitor the condition of roads, lighting, parks and other urban infrastructure; and efficiently allocate public resources. Entitled Smartening up the City, the nw report looks at what is happening in some of the world's leading cities and tech-savvy municipalities, including Atlanta, Barcelona, Bristol, London, Singapore, Vienna and Yinchuan. The report includes commentary and insights from an array of experts, such as:

Paul Wilson, managing director of Bristol Is Open
Jeremy Green, principal analyst at Machina Research
Dr. Wan Biyu, chief scientist of National Smart City Joint Labs in China
Samir Saini, commissioner and CIO for the city of Atlanta
Andrew Brown, executive director for enterprise and IoT at Strategy Analytics
Juanjo Hierro, CTO of the industrial IoT and smart cities platform product unit at Telefónica
Andreas Trisko, head of urban development department for the city of Vienna, Austria
Rafael Cepeda, smart cities lead at InterDigital
Jane Chen, chairperson of ZTESoft
"Up to now, weaving a digital fabric into the concrete and steel of urban environments has proven to be really hard," says David Pringle, author of the report. "Many different stakeholders need to be involved and it can be difficult to build a business case for rolling out sensors, controls and connectivity amid all the other demands on city budgets. But new low-cost, low-power, wide area networks could make it much easier to retrofit cutting edge technology into centuries-old urban environments. The smart city era may have finally arrived."
The report is accompanied by a webinar, featuring:
Jeremy Green, principal analyst, Machina Research
Svetlana Grant, director future IoT networks, Connected Living programme, GSMA
Rafael Cepeda, smart cities lead, InterDigital
About RCR Wireless News
Since 1982, RCR Wireless News has been providing wireless and mobile industry news, insights, and analysis to industry and enterprise professionals, decision makers, policy makers, analysts and investors. Our mission is to connect, globally and locally, mobile technology professionals and companies online, in person, and now on video. Our dedication to editorial excellence coupled with one of the industry's most comprehensive industry databases and digital networks leads readers and advertisers to consistently choose RCR Wireless News over other industry publications. http://www.rcrwireless.com