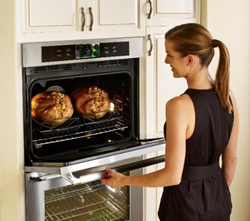 Dacor has been perfecting convection technology since we first incorporated it into our oven designs back in 1987
Los Angeles, CA (PRWEB) June 02, 2016
For more than 50 years, Dacor® has created innovations that truly matter to the passionate home chef, including technology that enhances the cooking experience. Dacor has compiled its Top Five Tips for Convection Cooking to give novice and experienced cooks insight about the convection feature, an oven cooking mode that even consummate chefs still approach with hesitation.
Unlike conventional ovens, convection cooking utilizes an internal fan that circulates hot air throughout the oven for even heat distribution. For almost 30 years, Dacor ovens have included a convection mode and today, all Dacor ovens and ranges feature an exclusive Four-Part Pure Convection™ System. Each oven cell includes a fan with a 2200W convection heating element, air baffle and convection filter, reducing cooking time, providing superior heat distribution and eliminating flavor transfer.
TWEET THIS: Intimidated by #convection mode? @DacorKitchen presents its Top Five Tips for Convection Cooking http://bit.ly/1Uxc07M
"Dacor has been perfecting convection technology since we first incorporated it into our oven designs back in 1987," said Dacor President and CEO Chuck Huebner. "We understand there can be a hesitation for those who have never experimented with convection cooking before, which is why the convection mode on any Dacor wall oven or range is easy to use and can expand the opportunities for exceptional creations in the kitchen."
Dacor's Top Five Tips for Convection Cooking:
1. Mind the Temperature: Because of the internal fan design, convection mode heats dishes more thoroughly than a conventional oven. Adjust dishes prepared in convection mode to 25 degrees less than what the conventional recipe calls for. Convection mode is also more energy efficient, as it requires a lower temperature than conventional dishes require.
2. Adjust Timing: Convection mode cooks dishes at a faster rate, so dishes that require 20-30 minutes in a conventional oven require about 10 minutes less when cooked in convection mode. Dishes with longer cook times, like roasts and pies, should be adjusted accordingly. The reduced cook time results in flakier pies and more flavorful meats.
3. Utilize the Space: Because heat is evenly distributed with the internal fan system, dishes that normally call for placement on the center, lower or upper racks of the oven can be placed anywhere in convection mode, which allows for more items to be cooked simultaneously.
4. Use Shallow, Light Cookware: The circulating hot air in the oven cell needs to reach the most surface area possible to evenly cook and bake. Using a shallow baking sheet or roasting pan helps the air hit all areas of the dish, and light-colored pans do not absorb and radiate heat like dark-colored pans.
5. Experiment! Great chefs try new recipes and techniques to find the best results. Convection cooking can be a powerful tool in creating flakier pastries, crispier roasted vegetables and juicier meats.
To learn more about Dacor and its selection of ultra-premium kitchen appliances, visit http://www.dacor.com.
About Dacor
Founded in 1965, Dacor is a leading manufacturer of ultra-premium kitchen appliances. Designed and built in California, Dacor's cooking appliances integrate function and technology to create high-performing, intuitive products that reflect the lifestyle and needs of the passionate cook. Dacor is also the first and only ultra-premium appliance brand to be tested and recommended by the Master Chefs of Le Cordon Bleu. Le Cordon Bleu is considered the world's most respected culinary arts and hospitality educator. Dacor's full-suite of award-winning appliances include ranges, cooktops, wall ovens, refrigeration, ventilation and wine preservation. Family-owned for more than 50 years, the company is responsible for many of the innovations that have improved the way people cook in the modern kitchen. http://www.dacor.com