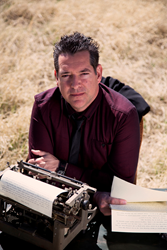 Working on the 'Dream Dangerously' documentary has given me the opportunity to help share my favorite of all Neil's stories – and that is his own.
Tucson, AZ (PRWEB) June 01, 2016
Geoff Notkin, recognized around the world as the star of TV's "Meteorite Men," today announced a new role: Executive Producer of the upcoming official documentary about his lifelong friend, famed author Neil Gaiman. Entitled "Neil Gaiman: Dream Dangerously," the film has a worldwide release date of July 8, 2016 on Vimeo.
As lads growing up in London and attending the same strict British school, Notkin and Gaiman bonded over their love of music and comics. They formed a punk rock band and dreamed of fame. Now, 40 years later, they are each at the pinnacle of their respective fields: Notkin as a world famous meteorite hunter and two-time Emmy-winning television host, and Gaiman as a New York Times #1 best-selling author and one of the most beloved storytellers in the world.
Notkin's involvement with the official documentary about his childhood friend is not the first time in recent years that the two have crossed paths on a creative project. When Notkin needed an introduction to his memoir, "Rock Star: Adventures of a Meteorite Man," it was Gaiman who provided the perfect prose. That introduction is included in Gaiman's upcoming nonfiction collection, "The View from the Cheap Seats," published May 31, 2016 by William Morrow. Notkin also makes a small guest appearance on the audiobook version, which is narrated by Gaiman.
In "Dream Dangerously," Notkin not only serves as an Executive Producer, but joins an impressive list of Gaiman's close friends and collaborators who were interviewed for the film, including Wil Wheaton, George R.R. Martin and Terry Pratchett. The Respect Films production, directed by Patrick Meaney and produced by Jordan Rennert, is available for pre-order now at https://vimeo.com/ondemand/neilgaiman.
"Neil and I share a lifelong love of music and comics and have a mutual fascination with meteorites as well," said Notkin. "'Stardust' was inspired by a shooting star he saw while visiting my home city of Tucson. Now, working on the 'Dream Dangerously' documentary has given me the opportunity to help share my favorite of all Neil's stories – and that is his own."
Prior to pursuing his love of science, writing and public speaking, Notkin had a successful career as a cartoonist, after graduating from New York City's famed School of Visual Arts. His third book, "My Incredibly Strange and Amazing Real-Life Adventures in the World of Comic Books," chronicles his close encounters with titans of the comic industry, including Eisner, Caniff, Kurtzman, Gilliam, Spiegelman, and, of course, Neil Gaiman.
At this weekend's Phoenix Comicon, Notkin will have copies of his books for sale at his booth, #HH303 in the Hall of Heroes on the 3rd Floor of the Phoenix Convention Center North Building. In addition, 500 lucky Comicon guests will receive the official "Dream Dangerously" movie poster, designed by Notkin himself. The poster will be available at Notkin's booth while supplies last on Saturday, June 4–Sunday, June 5, along with discount coupons to pre-order the film on Vimeo.
Notkin's booth at Phoenix Comicon will be attracting attention for other reasons, too: he'll be screening the world premiere of the teaser for his new action/adventure show, "Department of Strange Finds," and will be auditioning prospective guest stars for the show in front of a green screen. Auditions will be held Saturday and Sunday on a first-come, first-served basis and cosplayers are encouraged to visit and participate.
Media wishing to interview Geoff Notkin are asked to contact Becca Gladden, Director of Public Relations, at pr(at)aerolite(dot)org or (623) 210-6554.
# # #
About Geoffrey Notkin: A television host, professional meteorite hunter, science writer, and photographer, Notkin is president of Aerolite Meteorites, Inc., the world's largest commercial meteorite company. He starred for three seasons on Science Channel's award-winning TV show Meteorite Men, and hosted the Emmy-winning educational TV series STEM Journals for Cox Media. He has also made documentaries for National Geographic, Discovery, PBS, BBC, History Channel, A&E, and Travel Channel. Notkin has written more than 150 published articles on meteoritics, paleontology, adventure travel, history, and the arts, and is the author of three books. The minor planet 132904, discovered at Mount Palomar, was named "Notkin" and approved by the Minor Planet Center in recognition of Geoff's contributions to science and education.
Website: http://www.geoffnotkin.com
Twitter: http://www.Twitter.com/geoffnotkin
Facebook: http://www.Facebook.com/geoffnotkin
Instagram: http://www.instagram.com/geoffnotkin
Source: Aerolite Meteorite Public Relations