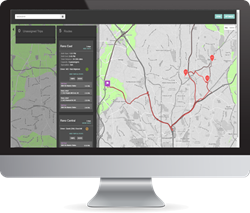 We are excited to have them bring their experience in route optimization and dynamic dispatching to the particular needs of our community connector shuttles. Kevin Chambers, CTO
Atlanta, GA (PRWEB) June 03, 2016
ThingTech (http://www.thingtech.com) – an Atlanta, GA company – announced today that it has been selected to deploy their suite of route optimization and dynamic fleet dispatching solutions to Ride Connection. RouteIT™ and TracIT™ provide seamlessly integrated and dynamic route optimization and real-time fleet tracking to improve customer service and improve mobility options for Ride Connection customers. Ride Connections is a leading provider and broker of demand response community transportation services in the Portland, OR metropolitan area and also provides a growing network of community connector shuttles using deviated fixed route services. Ride Connection currently operates five community connector routes. They serve the communities of Forest Grove, Banks, North Plains, Tualatin, King City, and Hillsboro. All services have defined routes with fixed time points while allowing a limited number of customer-requested deviations within a defined distance from the route or stops.
"ThingTech has been a very good partner of ours with our current transit asset management system and shares a similar vision on how technology can be leveraged to improved mobility and the customer experience. We are excited to have them bring their experience in route optimization and dynamic dispatching to the particular needs of our community connector shuttles. Their depth of experience in the field, their enthusiasm to innovate, and a lightweight approach that fits our scale were all key factors in selecting ThingTech to implement this mobility on demand solution. Their real-time routing and dispatching platform, combined with an open API, will allow us to serve our communities more quickly and efficiently," says Kevin Chambers, CTO of Ride Connection.
Ultimately, the mobility on demand solution will streamline daily operations and collection of data required by funders, capture additional service data related to improve planning, provide real-time service information for customers that is easy to access from a range of devices, automate and optimize real-time route deviations, and facilitate communication between customers, dispatch, bus operators with regard to range of service-related events, and provide open API's for transit aggregation services and third-party applications.
"This is a very exciting project and it will leverage the latest trends in mobility and transit coordination. Ride Connection's vision and leadership on service delivery innovation is tremendous. We are very proud to be selected to partner with them on this strategic initiative," says Tim Quinn, CEO of ThingTech
About Ride Connection
Ride Connection is a non-profit organization based in Portland, Oregon providing transportation options primarily for people over 60 and people with disabilities in Clackamas, Multnomah, and Washington counties. Access to transportation is critical to individual independence, health, and inclusion. Ride Connection partners with a number of local agencies to coordinate these crucial services in our region. Together, they provided nearly 500,000 rides last year and supported over 2,000 individuals with public transit training. Find out more at rideconnection.org.
About ThingTech
ThingTech is located in Atlanta, GA with offices in Atlanta Tech Village. Our bright and energetic staff of software developers, consultants, and customer success staff strive to build usable, practical, and innovative solutions to improve businesses in the public and private sector who own, operate, manage, and maintain fleets, heavy equipment, assets, and a mobile workforce. ThingTech solutions combine Enterprise Asset Management, Field Service, Smarter Cities and Internet of Things (IoT) solutions into a single, cloud-based, connected platform for enterprise asset intelligence. Our customers rely on our solutions to track and optimize the performance of their mission critical mobile assets and workforce to increase business performance and improve their customer's experience.