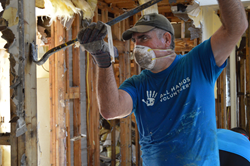 All Hands Volunteers provides training, safety equipment, accommodations, and meals to anyone who can get themselves to the project site for any length of time. All free of charge.
Mattapoisett, Massachusetts (PRWEB) June 02, 2016
Natural disaster response and rebuild organization All Hands Volunteers is encouraging Americans to sign up to help residents in Texas, South Carolina, and Louisiana who desperately need assistance. The nonprofit organization has raised funds to provide homeowners with free clean-up in some of the flood-ravaged areas of the country but needs more volunteers to get the job done. The organization provides (at no charge) volunteer coordination expertise, training, safety equipment, accommodations, and meals to anyone who can get themselves to the project site for any length of time. A shortage of volunteers risks shutting down critical domestic flooding clean-up efforts.
All Hands Volunteers is recruiting volunteers for project sites in Texas, Louisiana and South Carolina. The only requirement is the ability to work hard on whatever needs to be done, according to Executive Director Erik Dyson. Dyson says, "Driven by compassion for those who've lost so much already because of the floods, All Hands Volunteers is working around the clock to make communities feel like home again. Residents in Texas are experiencing record rainfall, while recently flooded Louisiana and South Carolina are struggling with flooding aftermath and are feeling forgotten. We are trying to get the word out and hope that Americans will respond to this call for service and offer to give their time and energy to help."
Thousands of families are living in unsafe homes that were flooded with water and have not been treated for rapidly growing mold. The organization's current focus is on providing free services like gutting, sanitizing, and debris removal. Dyson says there are no skills required, "It doesn't matter if you've never used a hammer a day in your life. We'll teach you."
All Hands Volunteer project sites are located in:

Southern Texas
Bogalusa, Louisiana
Georgetown and Andrews, South Carolina
All Hands U.S Disaster Response Director Sherry Buresh says, "Many volunteers are experiencing disaster fatigue due to so many back-to-back disasters. This is an opportunity for students to experience a service project and make a difference." All Hands Volunteers has long waiting lists for people who want to work on international projects. Buresh adds, "We need volunteers to help our fellow citizens in this country too. Each day we see the immediate impact of our work and it's life changing for both the volunteers and the homeowners. All the effort is worth it when you see a family's tears turn to smiles."
All Hands Volunteers has received Charity Navigator's highest 4 Star Rating.
All Hands Volunteers is a unique disaster response and rebuild organization that supports and manages volunteers across the globe after natural disasters occur in the U.S and abroad. The organization brings manpower and expertise; embedding volunteers in communities that suffer great loss and need help in a myriad of ways to recover. In the last 11 years, All Hands completed 65 projects. Philanthropic leaders say the organization is known for being nimble, collaborative, and professional in its response to the immediate and long term needs of those suffering in the aftermath of a natural disaster. Many relief organizations work in a community for only a few days following a disaster, whereas All Hands is on the ground for weeks, months and sometimes even years.
For more on volunteering or to make a donation visit http://www.hands.org
Interviews and photos available upon request.
####