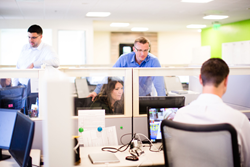 Not only will this investment position our senior leadership under one roof, but it will position our company for sustainable growth.
San Diego, California (PRWEB) June 07, 2016
After completing six months of thorough client-focused research, Novasyte is excited to announce personnel and departmental changes that will have a direct and positive impact on our clients' business as well as stage the internal operations team for the next phase of growth.
"I'm confident these new changes will deliver immediate results for our customers and employees," said Tim Gleeson, CEO. "Not only will this investment position our senior leadership under one roof, but it will position our company for sustainable growth. We will be able to make decisions quickly and effectively, while we continue delivering high quality solutions to our clients."
Todd Anderson, currently Director of Operations, will be moving to a new role within operations, the Director of Implementation. With the ultimate goal to drive customer success and exceed expectations in the first-90 days of project engagement, this new role solidifies our commitment to our clients.
A blended office and field-based position, Todd will be a liaison between our clients and internal sales/operations teams. Attending training sessions and presentations, Todd will ensure key metrics are defined, reached and measured on an ongoing basis - providing our clients with the data they need to measure and report value and quality metrics back to their leadership teams.
"I'm excited to be the liaison between our clients, operations and sales teams in this new role," said Todd. "This position will help stage Novasyte for future success as it reflects our commitment to our clients as well as our employees in the field."
Promoted to the Vice President of Sales, Ryan Jones, currently a Senior Director of Business Development, will provide strategic oversight and management over our growing sales team. As a proven sales leader who has shown year-over-year results and focus on meeting client needs, Ryan will now oversee and drive sales nationally and internationally throughout the US and Canada.
"It's exciting to be heading up this bright and talented team," said Ryan. "I'm looking forward to the opportunity to stage our team for the upcoming growth as well as work from the home office where we'll be able to strengthen cross-departmental communications and develop custom solutions that exceed our clients' expectations."
Joe Andrew, currently SVP of Sales and one of our co-founders, will be moving into SVP of Operations and Quality where he will be providing oversight to the operations and delivery team. Joe is moving to the home office in San Diego, California, to offer strategic oversight and help position the operations team for the next phase of growth, ensuring quality is never compromised.
"It is an exciting time in the evolution of Novasyte," said Joe. "With the tremendous growth and expansion we are experiencing, I am looking forward to bringing additional leadership in-house, in our home office, while working with our operations team on delivering valuable outsourcing solutions for our clients."
The three role changes will begin transition early this month and will be be fully transitioned by the end of June.
In addition to these three major role changes, Tyler Tracy recently received a promotion moving from the Director of HR and Finance to Vice President of HR and Finance. "She's played an instrumental role in developing our business and we're grateful she's on our team," said Gleeson.
ABOUT NOVASYTE
Novasyte partners with medical device and diagnostic companies, offering outsourced sales, clinical support and field service solutions. Our flexible model enables us to deploy and manage field-based teams that expand and contract to meet our clients' customer-facing needs. Program success is tracked and measured with our real-time business intelligence analytics that provide our clients with critical insights into their most important resources - their people and their customers.