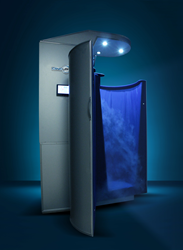 We were very excited to have the amazing team at Joe Gibbs Racing reach out to CryoUSA Solutions.
Dallas, TX (PRWEB) June 03, 2016
CryoUSA Solutions℠, the world's leader in whole body cryotherapy and a Proud Partner of the Dallas Cowboys™, is pleased to announce that it has installed a whole body cryotherapy chamber for Joe Gibbs Racing.
"We were very excited to have the amazing team at Joe Gibbs Racing reach out to us," said Mark Murdock, Managing Partner at CryoUSA Solutions. "The level of professionalism and their commitment to excellence across the board is obvious, and we're proud that they chose CryoUSA Solutions when looking for a partner to provide whole body cryotherapy to their teams. The individuals that make up the Pit Crew are true athletes, and whole body cryotherapy will help them achieve their best."
Joe Gibbs Racing is one of the most successful NASCAR racing teams, owned and operated by former Washington Redskins coach Joe Gibbs, who first started racing on the NASCAR circuit in 1991, and his son J.D. Gibbs. Headquartered in Huntsville, North Carolina, the team has amassed four Sprint Cup Championships since 2000.
CryoUSA Solutions was formed to provide active recovery and unmatched customer experience to anyone seeking to improve their quality of life and enhance an active lifestyle. This is accomplished by continual and diligent research, testing, education, and discovery of the most innovative recovery technologies in the world. Offering revolutionary, whole body cryotherapy along with other leading recovery modalities, CryoUSA Solutions has set the industry standards for safety, equipment, and reliability. And while professional sports teams, the world's most elite athletes, and celebrities have trusted CryoUSA Solutions as their provider in recovery, individuals across the country can benefit through the 140+ whole body cryotherapy recovery centers they have helped launch.
"We look very forward to an enduring partnership with Joe Gibbs Racing," added Mark. "We share in their commitment to achieving maximum potential in every area, and bringing the recovery and rejuvenating benefits of whole body cryotherapy to their organization will go a long way in keeping their teams running at peak performance."
About CryoUSA Solutions
CryoUSA Solutions is the established world leader in cryotherapy and recovery, providing unmatched expertise to numerous sports organizations. We are a Proud Partner of the Dallas Cowboys, SMU Athletics, and the Official Cryotherapy Provider of the Oregon Project at Nike and the Dallas Mavericks. Nine other NBA teams, Joe Gibbs Racing, and other NCAA teams have chosen CryoUSA Solutions as their cryotherapy equipment provider as well. In addition, we provide cryotherapy to athletes from USA Triathlon, USA Track and Field, MLB, UFC, the NHL and many others. Having installed over 190 cryotherapy units and helped start over 140 independent cryotherapy businesses nationwide, the experienced team members at CryoUSA Solutions are the go-to specialists in the recovery industry. To learn more about the business of whole body cryotherapy and additional recovery modalities, visit http://www.CryoUSAsolutions.com. Visit http://www.CryoUSA.com for location information if interested in trying whole body cryotherapy or its other leading recovery modaliites.