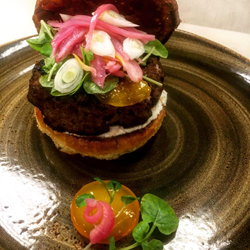 Morgantown, WV (PRWEB) June 02, 2016
Regatta Bar and Grille, soon-to-be Bourbon Prime Steakhouse, has announced today that it will be participating in The James Beard Foundation's (JBF) Blended Burger Project™, a nationwide contest and challenge to make a "blended burger" by blending ground meat with finely chopped, cultivated mushrooms to create a delicious, healthier, and more sustainable burger.
Chef Donnie Orr has chosen to feature The Bourbon Prime Burger, $13, to showcase a healthier burger, from Memorial Day, May 30th through July 31st, 2016. The Bourbon Prime Burger is a delicious mix of morel and wild mushroom duxelle, local ground beef, house-made smoked ricotta, pickled onions and ramps, watercress, cured farm egg yolk, and sweet heirloom tomato jam.
Blending meat with mushrooms reduces calories, fat, and sodium while adding important nutrients like vitamin D, potassium, and B vitamins. A blended burger also brings more sustainable, plant-based items to menus allowing Americans to enjoy the taste and flavor of the burgers they love, knowing it's healthier and more sustainable preparation.
Diners can vote and support the Blended Burger Project™, Chef Donnie, and Regatta Bar & Grille by:

Visit jamesbeard.org/blendedburgerproject to view the gallery of "blended burger" photos, and cast your vote for The Bourbon Prime Burger
You can also visit Regatta Bar & Grille beginning Memorial Day, May 30th- July 31st, 2016 (view the entire list at jamesbeard.org/blendedburgerproject) and ask for the "blended burger"
Post your Bourbon Prime burger photos to social media with the hashtag #blendedburgerproject and #bourbonprime to spread the word!
When the promotion concludes at 11:59pm EST on July 31st, 2016, the five (5) chefs with the most votes by consumers will win a trip to NYC in October 2016 to cook their "blended burger" dish at the James Beard House.
Visit jamesbeard.org/blendedburgerproject for a list of participating restaurants and follow #blendedburgerproject on Facebook, Twitter, and Instagram.
About Regatta Bar & Grille, Soon-to-Be Bourbon Prime Steakhouse
Located in the Waterfront Place Hotel on Don Knott's Blvd. in the Wharf District of Morgantown, WV, Regatta Bar & Grille, soon-to-be Bourbon Prime Steakhouse, is an upscale steakhouse that focuses on local, fresh ingredients and new culinary techniques to bring Morgantown a unique dining experience. Along with offering a great dining experience, Regatta Bar & Grille features a Prime Rib Buffet on Friday nights and live music on Saturday nights, making the restaurant an exceptional local haunt. For more information or to make a reservation, please call (304) 284-9850 or visit http://www.regattabarandgrille.com.
About the James Beard Foundation (JBF)
Founded in 1986, the James Beard Foundation celebrates, nurtures, and honors America's diverse culinary heritage through programs that educate and inspire. A cookbook author and teacher with an encyclopedic knowledge about food, the late James Beard was a champion of American cuisine. He helped educate and mentor generations of professional chefs and food enthusiasts, instilling in them the value of wholesome, healthful, and delicious food. Today JBF continues in the same spirit by administering a number of diverse programs that include educational initiatives, food industry awards, and scholarships for culinary students, publications, chef advocacy training, and thought-leader convening. The Foundation also maintains the historic James Beard House in New York City's Greenwich Village as a "performance space" for visiting chefs. For more information, please visit jamesbeard.org. Get food news, recipes, and more at the James Beard Foundation's blog. Follow the James Beard Foundation on Facebook, Twitter and Instagram.