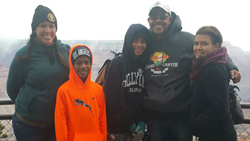 The student exchange program has made our lives richer in culture and love, and created a new family bond with this lovely young lady.
San Francisco, CA (PRWEB) June 02, 2016
Ayusa International is continuing its annual search for families throughout California to volunteer to open their homes to host a foreign exchange student, just like the Gamble family from San Bruno (San Mateo County). Families who volunteer to host contribute to the global community as public diplomats for greater international understanding. Communities where host families are needed include the following:
San Bruno (San Mateo County)
San Ramon, Danville, Pleasanton (Contra Costa County)
Rohnert Park, Cotati, Sebastopol (Sonoma County)
Arcata, Eureka, Fortuna McKinleyville (Humboldt County)
Fresno/Clovis, Bakersfield (Fresno/Kern counties)
The Gamble family in San Bruno, incuding host mom and dad Pamela and Marc Gamble, and children Nikos and Jaisa, has been hosting Ayusa exchange student Cristina from Chile, who attended Cappuccino High School this year. "We've had one of the most meaningful experiences during this 10-month journey with Cristina," said Pamela. "The student exchange program has made our lives richer in culture and love, and created a new family bond with this lovely young lady."
Cristina added, "Being a part of this program has been the best choice of my life!"
Ayusa works with diverse families who are interested in hosting an international student of high school age. Families without children, empty nesters, military families, retirees, and single people are all welcome. Ayusa families come from all over the country and reside in rural, suburban and urban communities.
Cathy Galli-Vaneveld, Ayusa regional manager for the Western U.S., stated, "Our exchange students are always vying for the opportunity to spend a year with a host family in the Golden State. It's big, beautiful, incredibly diverse and a hotbed of natural wonders, culture and history," she added.
Host families who volunteer provide their exchange student with three meals a day and a bedroom (private or shared). Each host family, student, and local high school is supported by a professionally trained Ayusa representative throughout the year.
Ayusa's exchange students are 15-18 years old and come from countries around the world. Students are fully insured, bring their own spending money, and are proficient in English.
How to Host an International Student
Interested families can learn more about the program and available exchange students and request additional information by visiting http://www.ayusa.org or calling 1-888-552-9872.
Families who would like to host complete the online application, which includes questions about themselves and local high school, references, and a background check. The local Ayusa Community Representative conducts an in-home interview and helps each family with any questions they may have about the application or process.
After families are fully approved, they can select the Ayusa student they would like to host.
About Ayusa
Ayusa International (http://www.ayusa.org) is a 501(c)3 non-profit student exchange organization founded in 1981 and an official U.S. Department of State designated Exchange Visitor Program Sponsor. In addition, Ayusa administers high profile grant programs funded by the U.S. Department of State and other organizations. Ayusa is a sister company of Intrax, a family of organizations that provides a lifetime of high-quality educational, work and volunteer programs that connect people and cultures. Intrax is headquartered in San Francisco with offices on four continents.