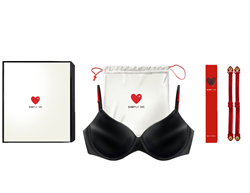 As a designer and entrepreneur, I believe in more than just making a profit—I am inspired by ingenuity.
SAN FRANCISCO (PRWEB) June 02, 2016
The Universe Bra™ is the first snap bra. Created to save women time and money, the bra easily snaps between five styles. "As a designer and entrepreneur, I believe in more than just making a profit—I am inspired by ingenuity," says Simeon Dacumos, founder of Simply Me™. Simply Me is the newest intimate apparel company changing the future by challenging consumer behavior and disrupting the market through design and a pay it forward business model.
Successfully launched just last week on Kickstarter, the Universe Bra is quickly making an impression. Retailing for $65, significantly lower than the approximate $250 that five separate similar bra styles cost, the Universe Bra is currently on Kickstarter for as low as $20 for early supporters. It is an exceptional value proposition backed by a cause and a quick solution for women to transform their look on the go to keep up with their active lifestyles.
The revolutionary and proprietary feature of the Universe Bra - a snap - connects the bra straps and back band to allow quick and easy transitioning from work to play. The straps can be adjusted on the front of the body as opposed to the typical design of the hard to reach slider on the back. When changing from a classic style to any of the other four, the straps naturally pivot from the snap design, creating a comfortable experience by eliminating pulling or distortion of the bra shape.
Simply Me's Universe Bra has a signature red bra cup lining, and comes with an extra set of red bra straps that provide additional style options while showing-off the wearer's support for women's equality. Dedicated to empowering women, Simply Me™ founder, Simeon Dacumos, takes a stance of "no discrimination" in his designs, emphasizing that his target market is not limited to one particular type/size of woman. He states, "Everything and anything that we do goes to that fundamental concept of empowering women. From the design and engineering, manufacturing, marketing, to our philanthropic mission."
Each Universe Bra comes inside a soft satin drawstring bag perfect for travel. Each product is shipped within a high-quality custom box for stylish home storage or gift giving.
Features:

Style/Fit: Demi cup in 8 colors, 3 padding levels - Confident, Bold, Adventurous
Proprietary snap design adorned with Simply Me's iconic heart-in-heart logo
Removable snap bra straps in matching bra color and a set in signature red
New snap back band for ease and style
Signature red bra cup lining with removable hygienic covering
The Universe Bra is available for pre-order now on Kickstarter with heavily discounted early supporter pricing. For more information and to pre-order the Universe Bra, visit: Kickstarter.
About Simply Me™:
A San Francisco based firm founded by the "Bra Doctor," Simeon Dacumos, Simply Me is a community of women and men who believe in women's empowerment. One Womb™, Simply Me's social movement, is breaking down the objectification of women by upholding the value that we all come from one womb, our mother's.
Every bra sale will contribute resources towards education, and raise the standard of living for women throughout the world. Further details available: https://universebra.com/pages/universe-bra-benefits